BisayaBulletin.com

From our little Visayan corner to the global community...

FOOD & DINING

by Gerry Malixi

Oh to be young again with nary a care in the world…..and to be blessed with high metabolism!  My younger days in Cebu (many, many moons ago), while spent in the usual pursuits of school and high jinks, were more than likely consumed in search of gastronomic gratification.  Not that we were experts in the field, but we certainly knew what we liked.  This was amply displayed in frenzied fashion when we polished off the various edibles that came our way, seemingly non-stop and way beyond fullness.  While those days of gustatory over-eating are no longer possible, fond memories remain of the palatable treats that were enjoyed then.

My recollections of Cebuano cuisine is one filled with diversity.  There were a whole lot of indigenous dishes, but many others seem to have been adapted from different regions and given the old Cebuano spin.  In my mind all of them were, and still are, immensely enjoyable and satisfying.  I remember breakfasts where we would pour the liquid goodness that is sikwate (a hot chocolate drink made from tablea or blocks of compressed pure chocolate) over steaming mounds of budbud (a sweet sticky rice dish).  Or bite down on fried dangit (a type of dried fish) & nukos  (dried squid) while shoveling in gi-sangag na kan-on (usually rice fried with garlic).  Sometimes we would have hot and nourishing inun-unan (fish dish cooked with vinegar), tinuwang isda (another fish stew) or zesty chorizo (ground seasoned pork, usually mixed with bits of fat, in a sausage casing) and kasahos (dried cured meat, usually beef).  Even simple canned spam and fried eggs over pan de sal (a type of bread) or plain Ligo sardinas (sardines) over rice was eminently filling.  And let's not forget about buwad (salted dried fish) that went well with juicy tomatoes.

Lunch of adobo (a meat stew cooked with soy sauce or other salty liquid, vinegar, garlic, onions, pepper and bay leaf) made with pork and/or chicken was always welcome.  It differed usually from the Tagalog style in that most of the liquid was reduced down completely.  This made for a delicious savory entrée that went really well with lots of steamed rice or binlid (steamed grated corn).  Humba (braised pork hocks) was also eaten quite often.  We preferred fried chicken made from native pullets, tasty down to the gnawed on bone.  Other times we had pancit canton (chinese egg noodle dish), bam-i (noodle dish made with egg noodles and glass noddles) or pancit bihon (vermicelli noodle dish) to go with the meal.  For veggies we might have chop-suey or grilled tawong (eggplant) or alugbati (a native plant with edible leaves) salad.  Some people may not find them so appetizing, but I always enjoyed fried chicken atay (liver) and batikon (gizzard).  Those chewy but flavorful gizzards did exercise my mandibles.  On chilly days we might have sotanghon (glass noodles) soup with kinchay (chinese parsley) & chicken or misuwa (rice noodles) with bola-bola (meatballs).

I can't recall when dinner was ever a light meal.  At times, we had dinugu-an (a stew made with pork blood), with its finely chopped ingredients mixed in a thick and piquant gravy.  Soup of tinuwang manok (chicken cooked in broth) with green papayas or left-over fried fish with kamunggay (a commonly eaten, nutritious native plant) or okra was also often served.  Fried lumpia shanghai (egg rolls filled with ground meat, carrots and onions) or lumpia touge (egg rolls filled with mung bean sprouts) was usually dished up with vinegar or sweet & sour dipping sauces. Certain fares were offered to encourage appetites (not that I needed much encouragement) like kinilaw (usually raw fish cooked by marinating in vinegar, onions & garlic), atchara (pickled vegetables of any type, but usually of julienned green papaya) or chopped tomatoes and onions mixed with red salted eggs.  Many nights we had nilat-an (boiled until tender meat dish) na baka (beef) or baboy (pork), bone marrow soup, mongos (mung bean stew which could include coconut milk) and kaldereta (stewed dish made from beef or goat in a tomato base).  And there was the ever popular sinugba (grilled meats) made of pork, beef or fish and lechon manok (fire roasted chicken usually stuffed with onions, garlic seasoned with salt & pepper).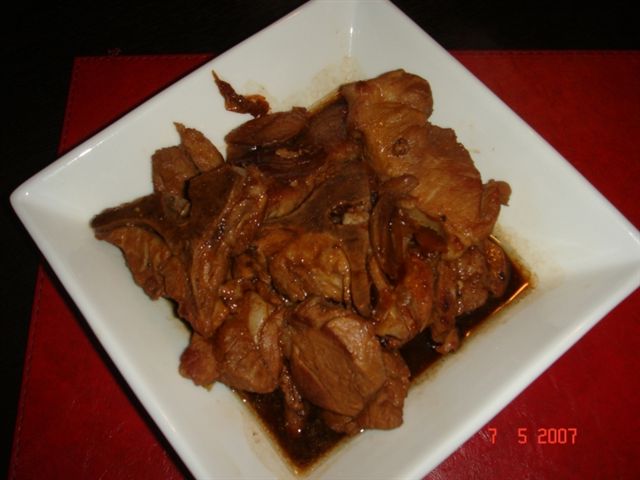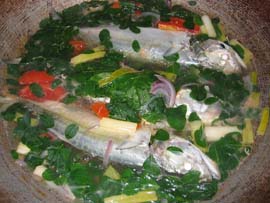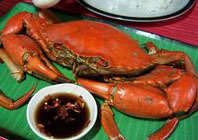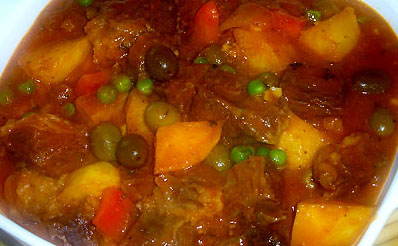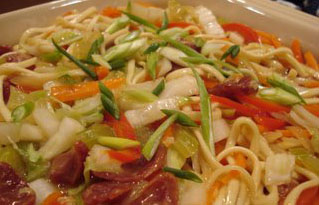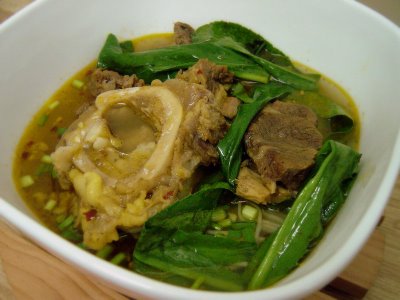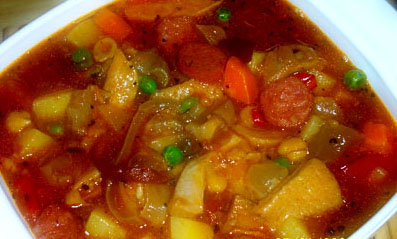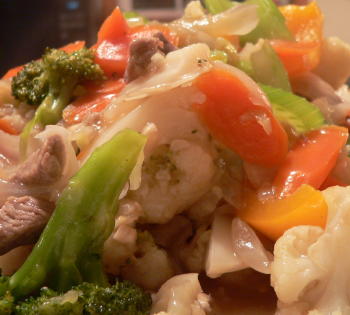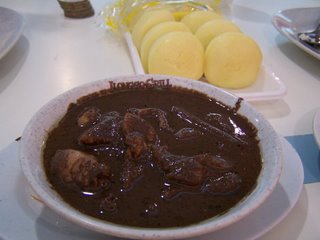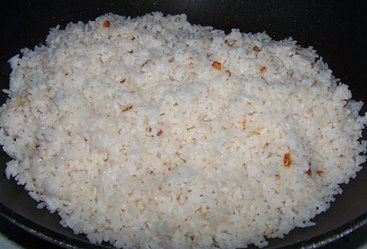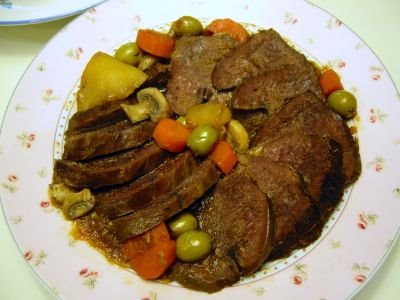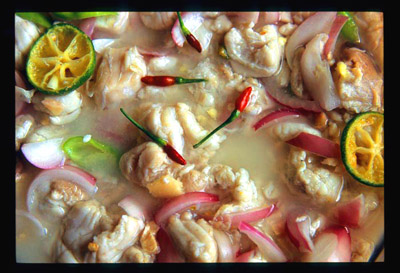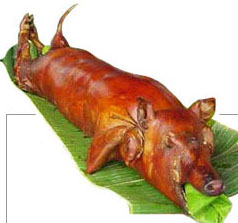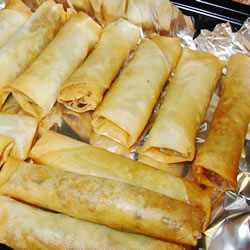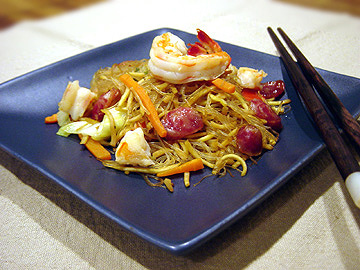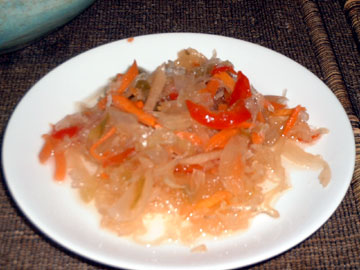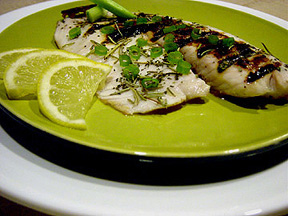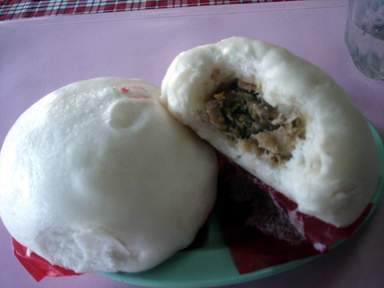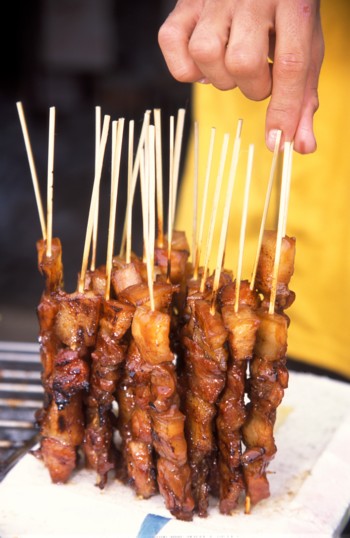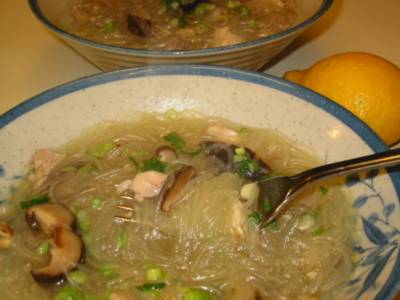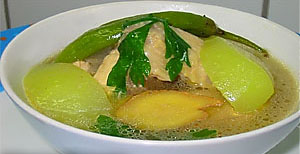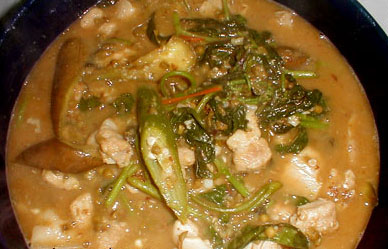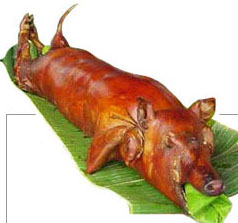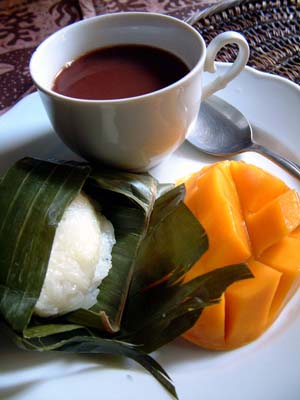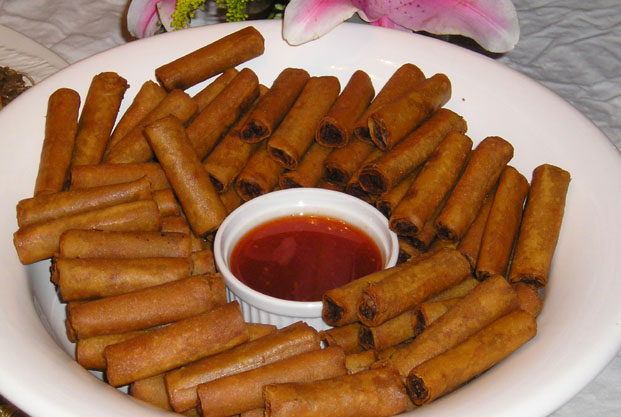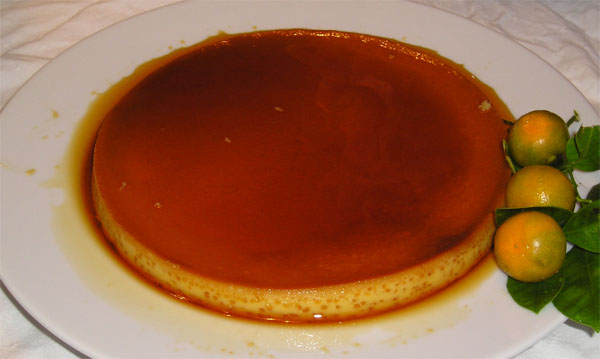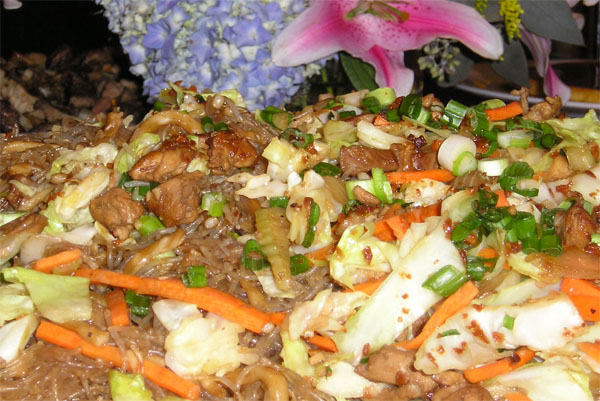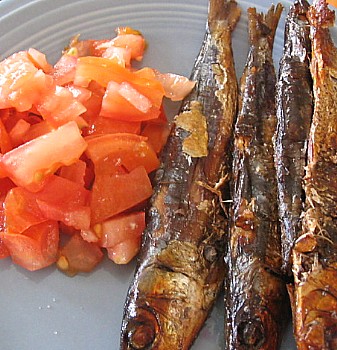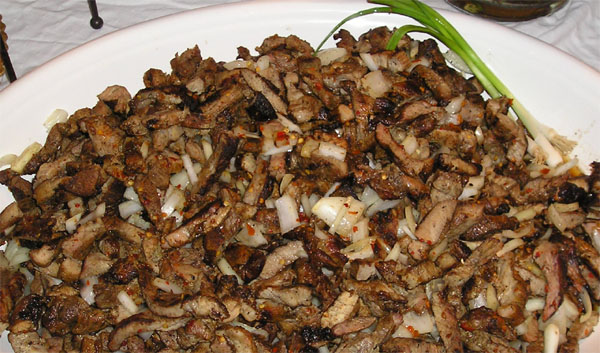 Yes, those were the good old days.  The wonderful thing, though, is that most, if not all, of these earthly delights can be had here in the US.  Most ingredients needed to whip up these fares are available in Filipino or oriental stores.  If you're not into DIY (Do-It-Yourself), there are places and people that you can order from.  So go ahead and enjoy these delectable delicacies when you can.

This has been a great trip down memory lane and, hopefully, you've enjoyed it as well.  Our wish is to provide even more scintillating and ebullient features in the future.

Welcome to the Bisaya Bulletin Food and Dining section!

Related Links: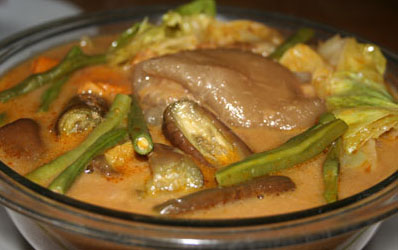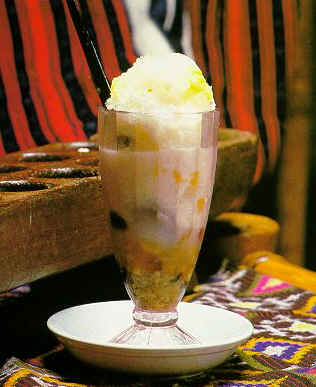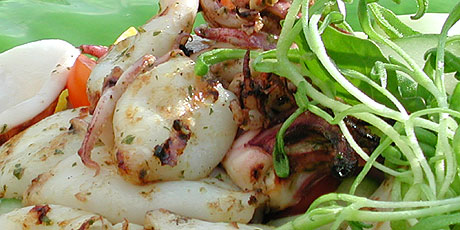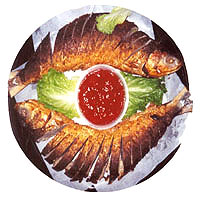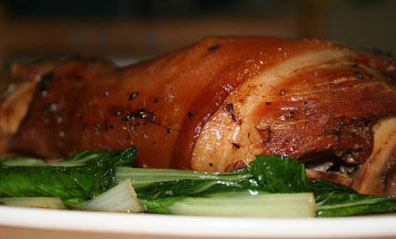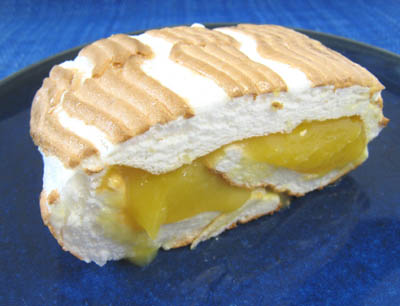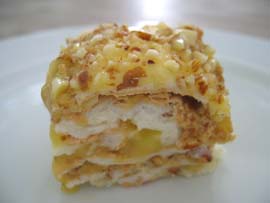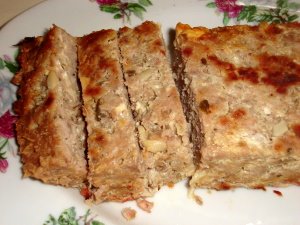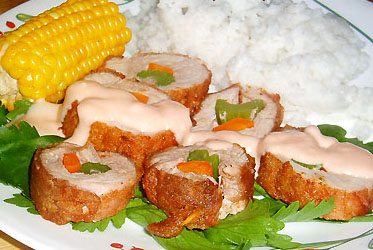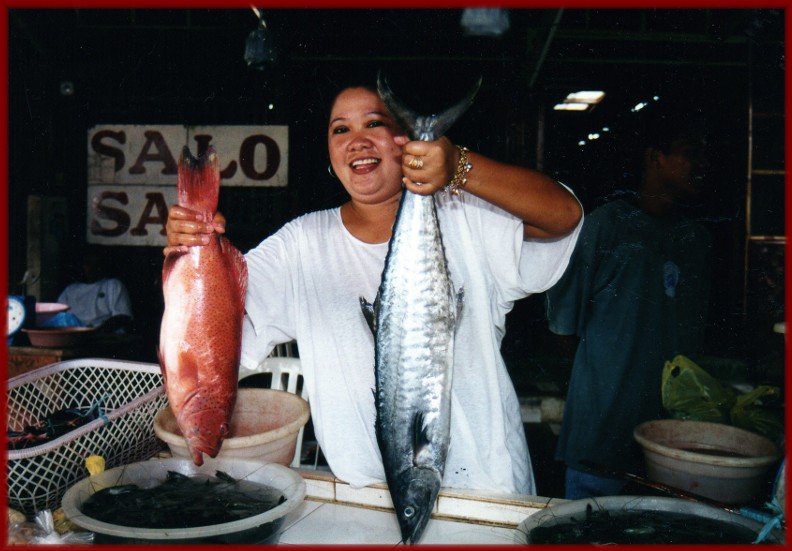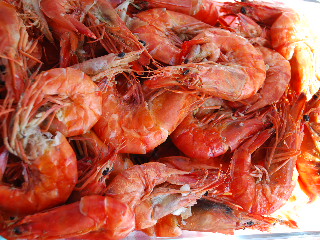 When cooking became too much of a chore for my Mom, I remember our family eating out and partaking of other mouthwatering treats at any of the very many eateries.  We went for siopao (steamed meat-filled bun) at White Gold or Coffee Break, ngohiong (another type of deep-fried egg roll) at Domeng's or Ngo Hiong House, roast quail and camaron rebosado (stuffed shrimp tempura) at Majestic, arroz caldo  (rice congee with chicken) at Thrifty Mart, chicken ala king & empanadas (meat filled deep-fried dumpling) at Angelica Bakery, pata tim (braised pork leg) at Mei Li Hwa, sinugbang nukos (grilled large squid stuffed with tomatoes, onions and garlic) at Golden Cowrie and sopa de ajo (garlic soup) & lengua estofado (tenderized beef tongue with sauce) at Beehive .  Throughout the day we might drop in at Eddie's Log Cabin for fresh corned beef or Mexican hot dogs (chili dogs here in the US), Larsian's for barbecue, Orange Brutus for shakes and burgers, Marlou's for pochero (slow cooked beef stew) and White Clouds for halo-halo (sweet treat made with crushed ice, various candied fruits, milk and ice cream).  And I will always remember dim sum at Ding How, especially their steamed fried rice, a topped rice treat laden with pork & chicken morsels in a tantalizing sauce, and the spicy sate beef noodles, the equivalents of which I have yet to find here in the States.

Special mention should also be made of the various foods for special occasions – embotido (ground meat prepared like meatloaf & steamed in a cylindrical shape), morcon (Spanish rolled, stuffed beef dish usually with a hearty tomato gravy), rellenong bangus and manok (deboned milkfish or chicken rolled up and baked), arroz valenciana (Spanish rice dish with pork, chicken, shrimp and clams), palabok (vermicelli noodle dish with a sauce made from saffron, pork and shrimp), callos (yet another Spanish stew made from pieces of tenderized beef hocks, tripe, chorizos bilbao (a type of cured sausage), olives, peppers, chick peas and tomato sauce), kare-kare (tenderized ox tail in a peanut sauce) and grilled sugpo (prawns) and alimango (crabs).  For the sweet of tooth there was cassava (a type of starchy plant) cake, leche flan (a steamed custard), cuchinta (a brown jello like dessert served with grated coconut), sans rival (dessert made from butter, ground nuts and pressed wafers) and brazo de mercedes (sweet thickened custard rolled up in an egg white meringue then baked).  And, finally, the king of all fiesta foods – skin crackling good lechon (fire roasted whole pig) in all its artery clogging glory stuffed with tangad (lemon grass), onions, garlic, salt and pepper.