BisayaBulletin.com

From our little Visayan corner to the global community...

Bantayan Island, the Glorious Seafood Hub

by May Mediano

April 9, 2009

Photo Credits by Joe Medida

Bantayan island located off the northern coast of Cebu is the answer to the weary and hungry soul.  With its unspoiled beaches less traveled by tourists than Boracay and Palawan, the old town is itself Cebu's best kept secret.  "Bantayan" originated its name from the watchtowers built all over the island in the 17th century as a lookout against seaborne Moros.  Famous for its religious tradition on Holy Thursday and Good Friday, the folks hold a procession of life size statues mounted on "carros" to observe the passion and death of Jesus Christ.  But hear not, with its somber observance of its Lenten season – for the folks of Bantayan Island have a curious twist to its tradition!  While the rest of the country abstains from eating meat, its town folks does the opposite of feasting during Lenten rites – a papal permission granted in the 1800s exempting the folks from fasting.  This is in recognition to the fishermen that do not set out to sea for seven days to participate their penance for the season hence the feast on Good Friday with a crisp and juicy lechon along with a bounty of seafood medley.

It is a practice that the tourists enjoy visiting Bantayan Island during its Lenten season because they can celebrate the holy days together with the locals by feasting on red meat and seafood cooked either as fried, sinugba, kinilaw, or adobaho as Bantayan offers an abundance of seafood – fresh and dried.

One has yet to conquer Cebu's kept secret… in Bantayan Island, a place for the spiritually inclined.

Related Links:

Photo Gallery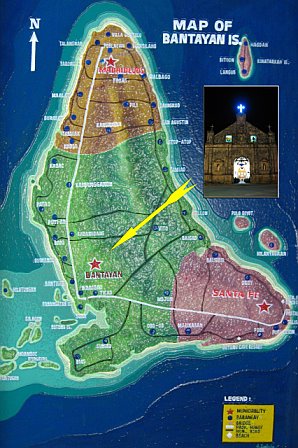 Bantayan's Glorious Bounty