BisayaBulletin.com

From our little Visayan corner to the global community...

CONGRATULATIONS TO MANNY PACQUIAO!!!

FOR WINNING THE WBA SUPER FEATHERWEIGHT TITLE

in a split decision over Juan Manuel Marquez

Casual Conversations with Manny Pacquiao and Gerry Penalosa

Written by May T. Mediano

March 12, 2008

We chanced upon Manny Pacquiao and his entourage of boxers' Gerry Penalosa, Bobby Pacquiao, Rodel Mayol, and other members in Hollywood, in a Thai restaurant that sits within the same compound as the Wild Card Boxing Club where he trains with Freddie Roach.  The boxer and his entourage just finished a late afternoon lunch.  When introduced, he would be pensive and poker faced at first.  He would look at a distance without any expression at all.  But once you tap that familiarity in him of being Bisaya and being able to converse in our own local dialect, Manny immediately traded jokes with us and we would burst into a round of laughter as we exchanged jokes on music, boxing, and his life in the news. Very charismatic, courteous and accommodating, he earns that mass appeal that makes everyone at ease.  So with Gerry Penalosa, who is equally great and would trade his share of jokes too!  Both are in tandem with humility, honor, and greatness.

Juan Manuel Marquez versus Manny Pacquiao will have their upcoming bout on March 15, 2008 at the Mandalay Bay Resort & Casino in Las Vegas, Nevada.  Cheers to Manny from the Trio Ladies of BBC!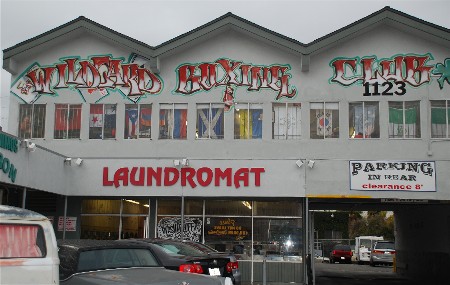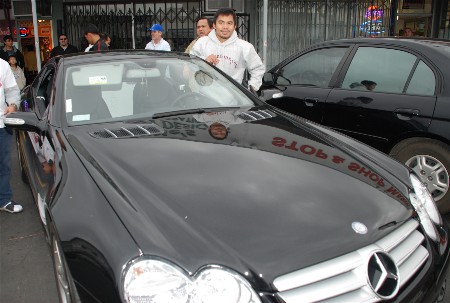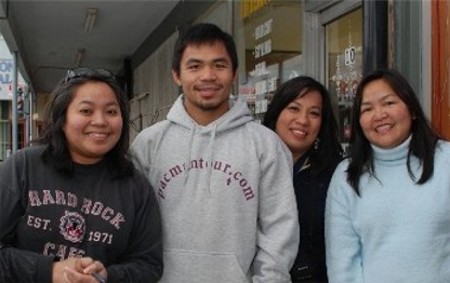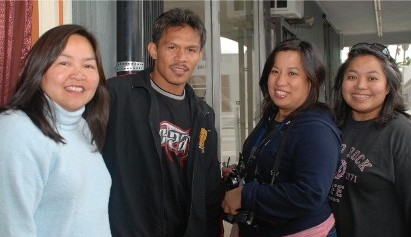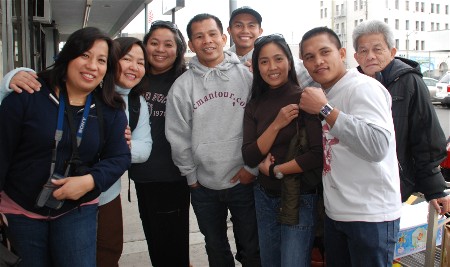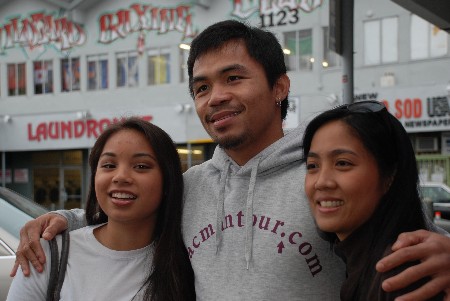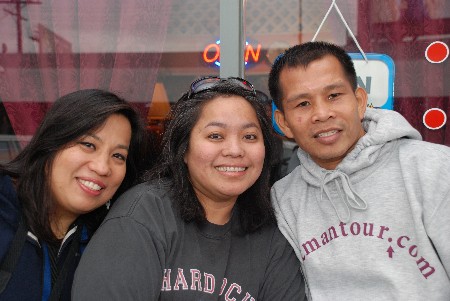 Manny "Pacman" Pacquiao with BisayaBulletin.com's May Toling Mediano, Teresa Martinez Sepulveda & Stella Antigua Peyton

Group picture w/Teresa, Stella, May, Gerry, Rodel Mayol "Batang Mandaue", Adel and 2 others from Manny's entourage (Photo taken by Manny Pacquiao)

Gerry Penalosa with Teresa & May

Manny with Mia Mediano & Dr. Adel Mediano Roa

Bobby Pacquiao with Stella, Teresa & May

Manny going into his ride--a black Mercedes 500

Wildcard Boxing Club where Pacman Tour works out

View a video of BisayaBulletin.com with Manny Pacquiao

A Message from Gerry Penalosa

Meet Rodel Mayol "Batang Mandaue"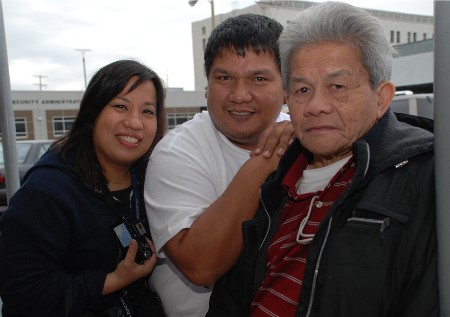 Teresa with Boboy Fernandez & Mel (taga Davao)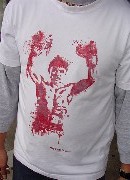 Videos taken by Teresa Martinez Sepulveda