BisayaBulletin.com

From our little Visayan corner to the global community...

UP College Cebu High School Batch '79

California Reunion, August 15-16, 2008

by Betsy Cagalitan Moreno

December 16, 2008

The University of the Philippines College Cebu High School Batch '79 first started our US reunion in Palm Coast Florida in May of 2001. Since then, our group of high school classmates has been reunited for the fourth time. Our California classmates Lyle Pelicano Castro, Ramon Solano, Nonie Mancao, Danny DeLeon, Tyrone Clavano, Raymond Ignacio, Jose Sichongco, Cita Dupal-ag Garcia, Joselito Dupal-ag and James Abilla, played host on our last get together. Friday, August 15th started with dinner at Cita Dupal-ag Garcia's place in Los Angeles. The Mexican dinner had a different twist because they added a "Tacolero" – a chef that cooks Tacos to your liking. The experience was sort of like a Mexican hibachi dinner but less drama. The Tacos were spicy and delicious. The Filipino food that was displayed in the kitchen table was abundantly untouched and the look on each of our faces as we hugged and kissed each other was priceless! Some of us have not seen each other since high school graduation and that was almost 30 years ago. If laughter was the best medicine and if I was suffering from some sort of sickness, I would have been cured that night. Our gracious host Cita, surprisingly provided us with maroon and gold T-shirts. I had forgotten that this was the color of UP and it was great to see these color combination once again. The T-shirts provided the perfect backdrop for group pictures and even at that moment, laughter was the ever-present noise you hear in the garden and hopefully not in the whole neighborhood.

Saturday morning at the Queen Mary was interesting and fun. Some of our classmates had breakfast at the Queen Mary but Olga Villa and I decided to sleep in that morning. We joined the group at the upper deck of the ship for some more Kodak moments. We had to bid farewell to Henry James Kilantang that afternoon at the dock because he could not join us anymore at the grand reunion of all UP Cebu High School Alumni in Long Beach. Here's my toast to you "Hanky"; may we see more of you and your family in the many more reunions to come. We then headed to the 5:30 mass at St. Anthony in Long Beach where the celebrant was Father John Therese, Romulo Creus of batch '77.  After the mass, we had a few more Kodak moments with batch '77 in front of the church. It was great to see Mitet Sanchez, Alma Cabahug, Evangeline Chi, Janet Salazar, Mary Ann Tamayo, Susie Solano Ignacio, Edna Gaanan and of course Romulo Creus, Father John Therese.

The pioneers of UP Cebu High School are batch '75 and they played host to the first ever UP College Cebu High School US reunion. The venue was the condo club house of Dedette Alvarez in Long Beach. There were about 50 of us including our families that attended the event. It was a pot luck dinner and there were so many different kinds of Filipino dishes. We really took to heart the famous Bisaya saying, "mas maayo pa mag sobra kaysa mag kulang!" There was so much food that we had a hard time getting rid of them at the end of the party. Batch '75 had Suzanne Gotera Jackson, Pinky Murillo Magno, Dedette Alvarez Mohr, Gingging Cabaluna Johnson, Cora Pastor Kessell, Bimbo Fernandez, Giovanni Ferenal and wife Amor, Lorenzo Escano and Ulysses Salazar. Batch '76 had one couple, Gigi Seno-Bugarin and John Bugarin. I remembered them as high school sweethearts and it was great to see them still together after all these years. Batch '77 was mentioned above. Batch '78 was not represented and Batch'79 had the most attendee. Aside from our batch mates mentioned above, Olga Villa, Ana Avergonzado Fajardo and I flew all the way from Maryland, Florida and Illinois respectively.  Batch '81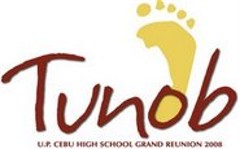 Photos from the Los Angeles Grand Reunion

UP Cebu High School 2008 Grand Reunion

by Gerry Malixi

December 16, 2008

It was with much fanfare and revelry that UP Cebu High School alumni from all over the globe congregated at the old alma mater at Gorordo Avenue, Barangay Camputhaw, Lahug, Cebu City to celebrate their 2008 Grand Reunion.  The events were held from July 12 through July 19 and coincided with UP's Centennial Year celebration.

From far and wide they came to pay tribute, to regale and to relive the glory days.  The festivities commenced on July 12 - Tunob Day - when a cavalcade of alumni paraded and later permanently affixed their footprints in cement.  Participants then engaged in feats of athleticism as the various batches vigorously competed in basketball and soccer. 

The following week, the attendees participated in Career Week by giving talks designed to assist the high school students in choosing their career paths.  Friday, July 18, provided more diversionary pursuits by way of a golf tournament held at the Alta Vista Golf and Country Club.  That evening, those in attendance joined with the rest of the UP Visayas Cebu College community's Grand Alumni Homecoming in a dinner fashion show held at the college gounds.

July 19 saw the group touring the Cebu Provincial Drug and Rehabilitation Center by invitation of Byron Garcia (Batch '77).  The inmates, made famous by a video clip posted on Youtube showing them dancing to Michael Jackson's Thriller, performed a whole repertoire of dances.  The finale was a special number set to Jon Secada's remix of Los del Rio's Macarena, jointly danced by the inmates and Carlo Ignacio, Dr. Suzy Ignacio's (Batch '77) son, who clinched bragging rights to his Florida pals by showcasing his terpsichorean skills together with the cavorting jailbirds.  As an interesting footnote, Byron said that Los del Rios actually emailed him a request to do the number a month before Jon Secada's remix was released in the US.

The weeklong celebration was capped that evening with the Grand Alumni Homecoming Dinner, held at the Waterfront Cebu City Hotel.  The evening bash also included an awards ceremony where plaudits were handed out in recognition of trailblazing alumni and their achievements.

Kudos to all who attended and to everyonel who made this year's gala celebration a resounding success! 

Photos from the UP Cebu Reunion

was represented by Lyra Pelicano Goers, Piper Angbetic Villegas and Gayle Torrefranca Solano. Batch '82 had Trixie Murillo Gonzales and Ailen Acuna Evaniuck. Trixie is the younger sister of my classmate Jonathan and she looks the same as I remembered her in her high school uniform. The lone representative of Batch '88 was Jonace Bascon, who was smiling the whole time and looked so young and innocent but a very accomplished architect in the Bay area. As we bid farewell to everyone around midnight, it was with great honor for me to be able to spend time with fellow "katunobers" of UP Cebu High School. It was decided that we will have another grand reunion in Florida on 2010. But batch'79 will have another reunion next year in New York, New York. Save the date fellow "nakatunobers" on Memorial Day weekend, May 23-25, 2009.    

Video of CPDRC dancing inmates