BisayaBulletin.com

From our little Visayan corner to the global community...

Sinulog Festival 2010

by May T. Mediano

January 21, 2010

From all over the globe, where devotees of the Santo Nino start their nine day novena culminating on the 3rd Sunday of January, people simultaneously celebrate one beat, one vision of the Sinulog.  The dance is of pagan origin and dovetails from pagan's past to its Christian present.  History accounts Ferdinand Magellan planting the cross on Cebu shores to claim the country for the King of Spain, and Sinulog was already danced by the natives to honor their wooden idols.  As a token for Christianity, Magellan gave the Santo Nino (image of the Child Jesus) as baptismal Gift to Hara Amihan, wife of Cebu's Rajah Humaban, and later was named Queen Juana.  Along with the 800 other natives, Christianity was borne to Sugbu-anons, however shortly after this celebrated event, history enumerates countless of times how on April 27, 1521 was the fall of Magellan by fighting the reigning ruler of Mactan, Rajah Lapulapu with only a handful of men. 

From the remnants of Magellan to Legaspi's expedition to formalize Christianity, the Sinulog dance remained to be an observation to the Sugbu-anons however the dance no longer worshiped their native wooden idols or anitos but this time as a sign of reverence to the Santo Nino, now enshrined at the San Agustin Church, and renamed Basiclica Minore del Santo Nino. And this lived no less than 500 years to this day, a celebration of one vision to one beat observed by many parts of the globe.

Sinulog celebrations were in various parts of Los Angeles and Orange Counties in Buena Park, Los Angeles, Culver City, and Arcadia and of course, not to forget the mother of all celebrations in our homeland, Cebu City.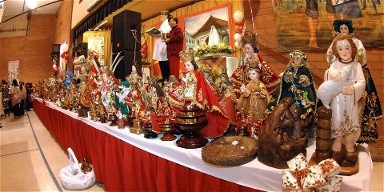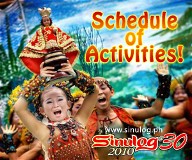 Official Sinulog 2010 Website

Photo credits: Mikey Gatal