BisayaBulletin.com

From our little Visayan corner to the global community...

2009 Sinulog Festival in Buena Park –

A Day of Rejoicing and Celebration

Written by Gerry Malixi & May Mediano

February 14, 2009

It was with much pomp and celebration that the St. Pius V Church in Orangethorpe, Buena Park, CA held its 15th annual festivities in honor of the Senyor Santo Nino on January 17.  The 2009 Sinulog Festival started with a mass at 9:30am.  The Lord's house overflowed with devotees and followers while a large choir, whose members looked resplendent in barong tagalogs and gowns, provided musical accompaniment to the proceedings.

A procession followed, with the boisterous crowd, many in colorful costumes and bearing likenesses of the Holy Infant, marching and dancing to the beat of drums and cries of "Pit Senyor" urged on by the equally ardent spectators on the sidelines.  Wending its way through the parking lot, the  teeming assembly  made its way to the parish hall which they entered in grand style followed by a crush of well-wishers.

Lunch was then served, with people lining up to partake from tables laden with huge trays of delicious food and, of course, crispy lechon.  Having built up a hearty appetite, folks made short work of the savory comestibles, toothsome desserts and other edible fare. 

After lunch, the assemblage was entertained by stirring songs and energetic dances by performers coming from all over Southern California.  The stage was vibrantly decorated and was fronted by long tables bearing numerous Santo Ninos of all sorts of shapes and sizes and in various multicolored dress.  In between performances, the raffle was drawn, with a grand prize of $400.00 going to one lucky ticket holder.  There was a special appearance by the folk singer Florante, who regaled with familiar songs and had the crowd in stitches with his jokes and lively patter.  Tickets to his concert were also raffled off to 4 lucky patrons.

The festivities ended with dancing and were finally capped by one mass display of unrestrained, joyful celebration.  Many thanks to the hard work and tireless efforts of the organizers, donors and volunteers for making this year's fiesta a roaring success!

The after Sinulog party, sponsored by Chiquita and Boy Gica said so much of a celebration worth attending.  Lots of food was served topped with the sinful balbacua (pork hocks), dinuguan, another round of lechon, desserts, and the usual funfare of dancing and endless eating along with the company and warmth of gracious people.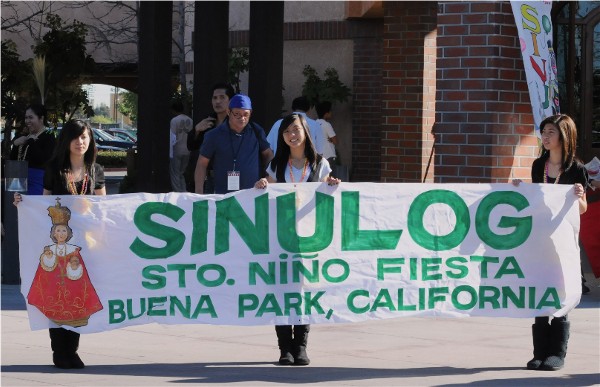 Other festivities were variously held in Arcadia, CA sponsored by the Santo Nino de Cebu Association, Culver City, CA, Vancouver, BC, and Auckland, New Zealand.  To the many other celebrations around the globe, Pit Senor!

Scenes from Sinulog in Buena Park

Photo Credit Sam Villa and Teresa M. Sepulveda

After Sinulog Party in Los Angeles sponsored by Chiquita and Boy Gica

Photo Credit Sam Villa

Sinulog Pictures from Arcadia

Photo credit Ramon Barriga

Sinulog 09 in Auckland New Zealand

Photos provided by Julie Ortiz Valencia