BisayaBulletin.com

From our little Visayan corner to the global community...

And 30 years after...the best reunion ever in Las Vegas!

by  Mary Villaflor Orticke

September 16, 2009

The journey to my 30th high school reunion all started for me one gloomy day in June when I received a forwarded email from classmate and long-time friend, Agnes Warque-Novak.  On August 22, 2009, St. Theresa's College (Cebu) high school class of 1979 is celebrating its 30th year reunion in Las Vegas!  30 years in Las Vegas?  It was stunning to read and simultaneously hear these words in my mind. You know how they say "time flies"?  Well for that second or so that I was logged on to my Gmail account, I felt like I was flown back, catapulted into that humid summer evening, 30 years ago when I graduated from high school.  Strangely and irritatingly, I don't remember much of it except for the following hazy images: a quick hug and chat with Eileen Urbina; a much quicker Polaroid moment with Ms. Paradela and my folks against a backdrop of smiling faces of family and friends.  Well, 30 years certainly did a fly by on me and there I was, quickly responding to the email invite – a resounding yes, I will be there, wondering how many of us will be able to make it.  Everything else pleasantly unfolded for me from that point on. 

What was once shunned as "sin city" and measured way beyond the insipidness of decent society, Las Vegas is now the epicenter of mainstream leisure, a place of escape, attracting more visitors than the holy city of Mecca.  There could not have been a better venue for our 30th HS reunion and our great escape from the routine of family, of work and the never ending lists of things to do.  The reunion wouldn't have been as smooth and fun as it had been without the thoughtful efforts of the organizing group--headed by Gaye Lopez Strambu with Maricor Rosales, Marice Garcia Little, Stella Antigua Peyton, Monette Ceniza Casals, Coyette Tiansay Little and Gemma Martinez Angeles.

This is now July and just a month before the reunion.  Thoughts often came to mind about what it meant to be a Theresian.  The pride that came with donning those white and navy blues; those leather boys shoes and ankle shy "now you see it-now you don't" white socks; and thoughts about what made us unique as a group from the very start. 

A lot of us have known each other from kindergarten class.  I remember the prep class year book photo shoot when some of us became eager subjects wrapped around or hanging from low branches of some  of the playground trees; some of us glaringly toothless but with such great smiles to boast anyway.   

Certainly, one of the things that made us special as a group was that we were 6th and 7th graders pooled together into one high school graduating class by a stroke of academic genius.  Our group became the most diverse in Theresian history and the smartest.  Sure, there was a moment of uncertainty about how things would pan out with mixing two grade levels but that quickly dissipated as we all understood and accepted that we were no longer individually

6th graders or 7th graders. The "we versus them" was encompassed by acceptance, respect and understanding that we will always be unique as individuals with differences. We were the newest "freshman" class in 1976, the most in terms of numbers, loud and proud and losing no time at all in trying out for the next after class sports or social club or picking out our next BFFs.

Probably not as uncommon but nevertheless adding fabric to the unique tapestry that bonded together  the STC high school  class of '79, was the fact that some of us shared the experience of having to transplant ourselves thousands of miles away from the Philippines into many different parts of north America. For some of us, it happened right after high school but for the most part, it became an exodus of the best and brightest, from the 80's and 90's and continues to this day. 

There are so many reasons for why each of us journeyed this far and chose to stay here, but what matters now is that once again

Photo credits: Stella Antigua Peyton, Dinah Bertulfo Katindig, Monette Ceniza Casals,

Frenchie Abregana Tamargo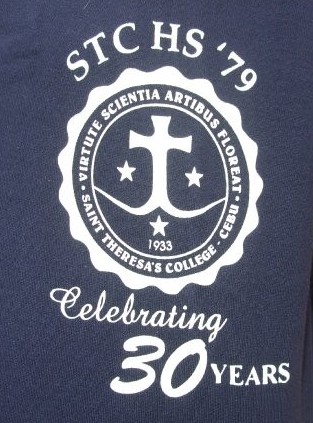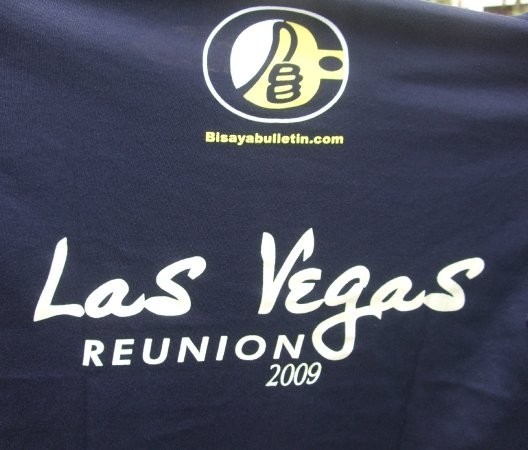 we find ourselves pulled geographically into a class of super achievers and go-getters in this land of plenty, still loud and proud as I would soon find out, much like the 6th and 7th graders that we were once.

Fast forward to Saturday, August 22, 2009, around 7:15 a.m.  I find myself in the tail end of a screening line of at least a hundred or more fellow travelers at Los Angeles International, calming myself into believing that I will make it to my 8 a.m. flight (which I did).  I think about classmates who are traveling from much greater distances.

The day of the big reunion finally came. 30 years is a really long time.  I am getting together with a bunch of former classmates, most of whom I had not seen since graduating from high school.  I feel a strange stir of emotions and feel curiosity, tinged with nervousness and tiny bits of apprehension. This reunion has somehow forced me to think about my life, the last 30 years, and to reflect about decisions I made and where it has lead me in the scheme of things.

The hour or so flight to Las Vegas from Los Angeles was quick and I made it in no time to the Flamingo Hotel and Casino well before our 10:30 a.m. scheduled reunion brunch.  Set on the famous four corners of Las Vegas Boulevard and Flamingo Road, the Flamingo, was as welcoming as an oasis to the class of '79.

Just before 11 a.m., a growing group of us met just outside the entrance to Paradise Garden.  It was a heartwarming experience to see classmates I hadn't seen, some of whom I had been somewhat close to during an important phase of my life.  The amazing thing is none of us had really changed much visually to a point where we couldn't recognize the other person.  We were glowing with excitement, almost lost in our never ending hellos and how have you been while watched live flamingos napping on their toes, and enjoying a fresh feast of scrumptious salad, seafood, prime rib, and a host breakfast items and array of desserts that included freshly baked pies, cakes, puddings and pastries. 

My classmates now had careers, family, and children some of whom came to partake in our reunion.  We talked about old stories of high school escapades, of trouble and harmless childish antics. We shared tidbits of our ways of looking at life, our teenage and college challenges, and the twists and turns of our lives since then.  We took a whole lot of pictures. Lots.  First from inside the restaurant and then outside in the garden where the flamingos were lazily kicking it in the warm, slightly humid Nevada afternoon.  There were so many cameras in our group that we could easily have opened a new Sammy's camera store right there on the Vegas strip and profited from it.  We also had special commemorative t-shirts in true blue Theresian color. Everyone had on a shirt and more pictures snapped along the way.

It was now around 2:30 p.m. and time to retreat back to our hotel rooms for a short nap before mass at 4:00 p.m. and then on to our gala dinner at Café Moda.  For some of us that lived to shop, no mall or outlet was too far to travel and so some of us made that quick detour to the nearest outlet.

Café Moda on Jones Boulevard just off of Spring Mountain Road is a restaurant by day and a nightclub/restaurant and bar by night. It was a excellent place for holding our reunion dinner.  Our group started to arrive around 6:00 p.m. As you enter the club, one is drawn to the dancing area and small stage in the middle of the room, surrounded by tables and chairs. To the far left of the room were the bar and the buffet area. The food was great and this was just the perfect spot to have a good time with friends.  Half way through dinner, we started our program.  Monet Ceniza Casals and Coyette Tiansay who graciously agreed to host and co-emcee the program, welcomed the group.  We had ice breakers by way of group/trivia games and it was such a journey to remember some of our teachers and classmates, their names and what they did or did not do. 

The bar was surprisingly a hit and just right on their margaritas and vodka mixes. To top it all, we had a DJ host that played a really cool mix of danceable modern, hip-hop, ballroom and latin music. Of course, the picture taking took a life of its own. We posed, and played trivia, ate and drank the night away.  What followed was a long evening of chats, of reminiscing, and shared impressions of our teenage mischiefs. It was amazing how the lives of STC Class of '79 had turned out. There were engineers, doctors, lawyers, teachers, computer artists and scientists, nurses and senior managers.  All of us special in a sense that we all had emigrated and for most, lived on this side of the Americas for the majority of our adult lives.  The atmosphere at Café Moda was very relaxed; everyone was having fun, and sincerely happy to see each other.

Around half past 9 p.m., after the bill was settled and Café Moda now opened to the general public, we decided to hang out at a coffee shop in the Venetian Casino.  This turned out to be the Coffee Bean and Tea Leaf.  There we continued with reminiscing, enjoying latte drinks and hot cocoas; hanging out until finally, it was time to leave because the place was closing down.

For me, and I'm sure that I speak for my STC high school class of 1979 as well, the journey to my 30th high school reunion was a positive and reaffirming one. I was able to connect with friends I haven't seen for 3 decades and the flood of memories was refreshing in a way that I would never had recalled them if it weren't for one of our classmates painting it back to my consciousness.

I no longer wonder why the bonds between us continue to remain so strong after 30 long years.  I know that it has to do with the supremacy of shared experiences, reflecting a memorable and much cherished part of each our individual lives that produced such a strong collective remembrance.