BisayaBulletin.com

From our little Visayan corner to the global community...

"STC HS 78 Homecoming Reunion… Soon!"

by Teresa Martinez Sepulveda

May 25, 2008

"Time slips away but old friends are here to stay".  Never has such a sentiment been so true as when former classmates of St. Theresa's College, Cebu City, Philippines Batch '78 gathered for a soiree at the residence of Annette Alazas-Mendezona in Maria Luisa Estate Park in Banilad, Cebu.  Dressed in white, all 20 participants celebrated by basking in the glow of the season's holiday cheer, relishing an evening filled with laughter, good tidings and catching up with one another.  Amidst the festivities, the group took the opportunity to discuss the upcoming 30th anniversary of the class this coming July 2008.  Exciting plans are now drawn up and put in place for this once in a lifetime event.  This celebration will surely be a resounding success given the fervent preparations effected for this undertaking.

With that in mind, I extend to all members of STC HS Batch '78 this invitation to partake and involve yourselves with our 75th Diamond Jubilee this July 2008 at St. Theresa's College in Cebu City.  Ladies, wherever you may be, come and grace the occasion with your presence.  Let us all take time to give back to our alma mater and continue with the familiar cheer we all once knew, loved and took great pride in.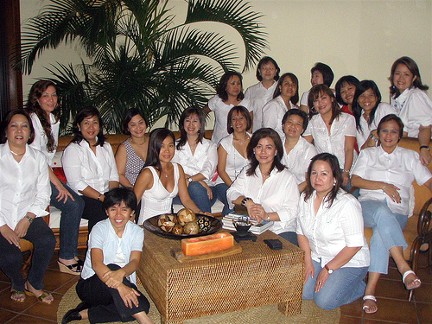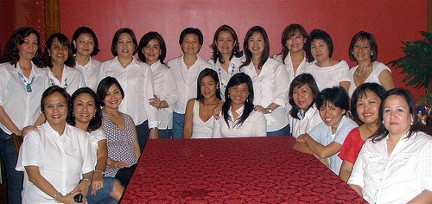 Standing L-R:   Annette Alazas-Mendezona, Susan Pabon, Lulu Suarez-San Pedro, Totot Dy,  Minet Aguisanda-Jerusalem, Mae Divinagracia-Rivera, Me-Anne Alcordo-Solomon

Seated on Couch L-R: Jaqueline Uy, Lenny Rafols-Durano, Jane Jabines-Toledo, Ichu Alfaro-Benlot, Cathee Climaco-Bernedo, Cathee Climaco Khodaverdi, Lynn Liu, Jackee Gullas Weckman. Maurine Clavano

Seated on Floor L-R: Teresa Varela-Atienza Doreen Hsia-Lozada, Dorie Salera-Im, Beth Espeleta-Suarez

Back Row L-R: Jane Jabinez-Toledo, Maurine Clavano, Cathee Climaco-Bernedo, Me'Anne Alcordo Solomon, Teresa Varela Atienza, Jackee Gullas Weckman, Annette Alazas-Mendezona, Lulu Saurez-San Pedro, Gemma Climaco Khodaverdi, Minet Aguisanda-Jerusalem, Elizabeth Dy, Beth Espeleta-Suarez

Front Row L-R: Susan Pabon, Mae Divinagracia-Rivera, Lynn Liu, Dori Salera-Im, Ichu Alfaro Bentot, Leny Rafols-Durano, Doreen Hsia-Lozada, Jaqueline Uy

Standing L-R:  Lenny Rafols-Durano, Lulu Suarez -San Pedro, Susan Pabon, Jaqueline Uy, Rhodora Salera-Im,  Lynn Liu, Me'anne Alcordo, Cathee Climaco Bernedo, Jackee Gullas-Weckman, Totot Dy-Cuenco, Gemma Climaco-Khodaverdi,

Seated L-R:  Maurine Clavano, Annette Alazas-Mendezona, Ichu-Alfaro-Bentot, Doreen Hsia-Lozada, Mae Divinagracia-Rivera, Jane Jabines-Toledo, Teresa Varela Atienza, Minet Aguisanda-Jerusalem, Beth-Espeleta- Suarez

Southern California Reunion (Tarzana, CA)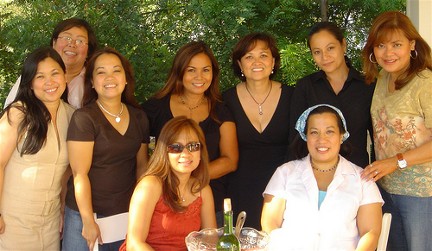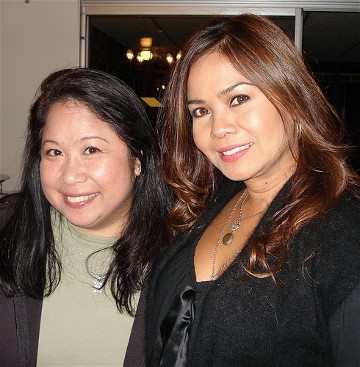 Standing L-R: Amylou Nazareno, Jojie Ong Yiu, Marivic Dingal-Ybanez, Joy Sison-Pensado, Cathy Streegan-Catani, Joy Estuart-Walsh,  Jackee Gullas-Weckman, sitting Rosalie Japitana-Philbin, Teresa Martinez-Sepulveda

Annabelle Mancao (New York) and Joy Sison-Pensado