BisayaBulletin.com

From our little Visayan corner to the global community

STC HS 73 Annual Convergence

November 8, 2007 by May Toling-Mediano

Over the years, the St. Theresa's College (STC) HS Batch 73 gathers in different venues from Orange County, San Francisco, Florida, New York, and the recently concluded Las Vegas to uphold the tradition and consciousness of their alma mater.  From the pictures that you see are the lovely faces that all graciously morphed into powerful women of today.  Their batch is a convergence of professionals from nurses, lawyers, doctors, scientists, accountants, artists, and a linguist.  This article is inspiring as it is contributed in its vernacular binisaya by its own alumna, Marina P. Hamoy.  Enjoy!

"Sadya sa kanunay ning atong pagpundok kada tuig asa nato masinati ang lain-laing syudad sa U.S. Karong tuiga nagtipon ang STCC-NA73 sa Las Vegas nga nakapahinangop sa atong pagkasuod sa hayskul ug labaw sa tanan ang atong isigsinabtanay sa atong lahing kinabuhi diri.  Ang nangabot ug sayo sa LV nakasuroy sa mga casinos ug nakatan-aw ug pasundayag sa Cirque du Soleil nga ang Zumanity ug Love. 

Ang pagkit-anay nato didto sa Summerlin nakadala ug tigaw tungod sa pagsalmot natong tanan, labi na si Josette, Suzette, Byngbyng ug Rindy nga dugay-dugay na ang ulahing pagkit-anay.  Dali ra nahurot ang budbod ug turon nga saging gikan sa LA nga murag gilihi-an sa mga dugay nang nakatilaw ug lami nga Bisayang pagkaon.  Tulo ka sakyanang nag-abay paingon sa Hoover Dam ug pagkahuman nisimang ang usa sa Red Rock Canyon ug duha sa mga lanaw sa Mead ug Las Vegas.

Ang pista ni Tita nga dala ang pagpabunyag sa ilang balay ug pagtan-aw sa away ni Pacquiao kaha ang kinadak-ang tigum sa mga Cebuanos sa Las Vegas kay dala man sa pamilya ni Tita ug Sael ang ilang mga higala ug paryenteng suod sa LA.  Ma-o diay nga may-ong kaayo ang ubang mga bisita nila ni Tita. Nagpakopya bitaw na si Tita ug retrato sa grupo gikan pag 1962 ug gapangita mi sa among mga hulagway sa pagka-Prep pa!   Lisod ang pag-ukal sa grupo nianang gabhi-ona tungkod sa wala pa-abotang pagsangka nga STC trivia ug mga gahin nga gihikay ni Cindy ug gitabangan sab ni Cohryh. 

Salamat sa tanang nitambong ug sa mga nag-atiman aron mahapsay ang atong panaghiusa sa Vegas!  Ma-o pa kini ang kinadak-ang pagtambong gikan sa LAX, Naples, SFO ug NY.  Tita, salamat sa imong pagdumala kanamong tanan!  Cindy, salamat sa kanunay sa imong mga pagtagad!  Salamat sab sa mga nagplano, nagpahimutang sa mga estaran, nagmaneho, nagpalit ug mga tsitsiriya, nagdala ug mga pagkaon gikan sa CA, sa mga maniniyot, ug sa mga balita.  Unsa'y nahitabo sa Vegas magpabilin kaha sa Vegas!...."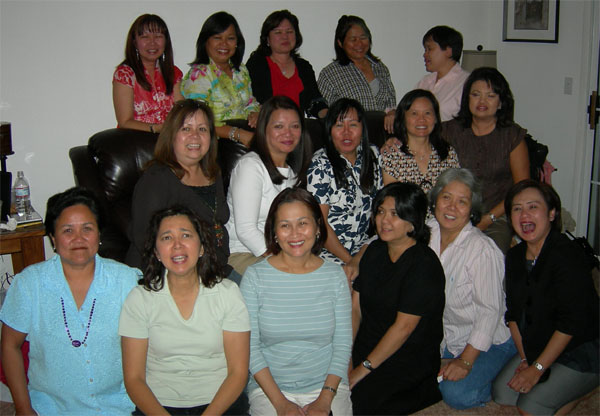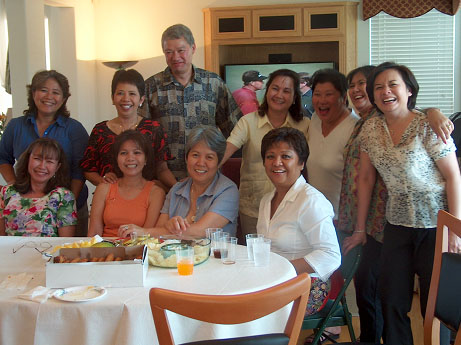 2003 HS Reunion--Seated L-R: Fi Alonso-Caplen, Myrna Coquia-Tolentino, Claribel Ybanez-Ybanez, Desiree Obana-Wantig. Standing L-R: Carmelita Villarosa, Mian Villegas-Gordon, Raul Arcenas, Marimel Clavano-Dritsas, Tita Gan-Lebumfacil, Mae Lopez, Angie Trocino-Rivera

2004 HS Reunion--Inside the jacuzzi L-R: Fi Alonso-Caplen, Elsa Ceniza-Bunagan, Ginny Ignacio-Sy, Girlie Lapinig-Passione, Charity Veloso-Simonson. Outside the jacuzzi L-R: Sonie Dorotheo, Rosie Anne Abella Chavez, Jim Gordon, Mian Villegas Gordon, Ed Sy

2005 HS Reunion--Seated L-R: Ana Lim, Cindy Bernaldez-Gaabucayan, Grace Palugod-Gastelum, Mae Lopez, Fi Alonso-Caplen, Yen Hamoy. Standing L-R: Cohryh Ceballos-Walters, Ginny Ignacio-Sy, Tata Soriaga-Jumaoas, Lauren Jumaoas, Brenda Lucero-Heyrana, Carmelita Villarosa, Claribel Ybanez-Ybanez, Angie Trocino-Rivera

2006 HS Reunion--L-R Peachy Osmena, Yen Hamoy, Charity Veloso-Simonson, Rosie Anne Abella-Chavez, Fi Alonso-Caplen, Cohryh Ceballos-Walters, Elsa Ceniza-Bunagan, Ginny Ignacio-Sy, Girlie Lapinig-Passione, Cindy Bernaldez-Gaabucayan, Mian Villegas-Gordon

2007 HS Reunion--Front Row L-R Yen Hamoy, Rindy Colmenares, Grace Palugod-Gastelum, Mae Lopez, Claribel Ybanez-Ybanez, Angie Trocino-Rivera. Middle Row L-R Ginny Ignacio-Sy, Rosie Anne Abella-Chavez, Josette Ruiz-Hewitt, Ana Lim, Byngbyng Colmenares-Santos. Back Row L-R: Fi Alonso-Caplen, Cohryh Ceballos-Walters, Cindy Bernaldez-Gaabucayan, Carmelita Villarosa, Suzette Canete-Colina