BisayaBulletin.com

From our little Visayan corner to the global community...

SHS High School '74 in Shangri-La

by Marc Canton

February 29, 2008

On January 29, 2008, 12 old classmates from the Sacred Heart School Batch 1974 had a walk down memory lane at the Shangri-La Lobby Lounge. Two ex-pats from Canada were in town: Ike Sepulveda who was on vacation in Cebu for 6 weeks (he's the lucky one) and Marc Canton who was in town for a 4-day business trip. They were joined by Robert Go, Ado Pono, Butch Oporto, Ramy So, Virgilio Co, Dave Hermosisima, Victor Chua, Kerry Ong, Alex Yu, and Tommy Young.

Tommy Young became the de-facto historian when he pulled out the school's 1970 yearbook showing our batch as Sixth Grade graduates! Yes, we saw in full glory all our photos of 38 years ago when we were on the cusp of teenage-hood. The reason we never had a High School Yearbook in 1974 was because of some dissent from the idealistic sector of our group who thought the money would be better spent on other more worthwhile causes. One of the leaders of this group happened to be at the impromptu reunion and, yes, we did beat him up (metaphorically) later that night.

A wise sage once said, high school years are the best in a growing young man's life. In our case, this was certainly true. We reminisced about life in school like scouting, intramural sports, mixed parties, citizen's army training, astronomy, girls, food, favourite teachers, funny things that teachers did/said, and we even talked about our studies. However, we celebrated the fact that we had grown up and lucky to be where we are. We toasted the closeness we felt for our group which separated 34 years prior. The ambience of the luxury hotel bar was enhanced by the very entertaining and talented band, Velvet Mood, who sensed the atmosphere and therefore played songs popular in the early 70's.

Before too long, the night ended and we promised to stay in touch with each other. We also hoped that the next get-together would be bigger and that more classmates from other parts of the world would be able to join as well. We said our good-byes and headed out to get ready to do business the following day.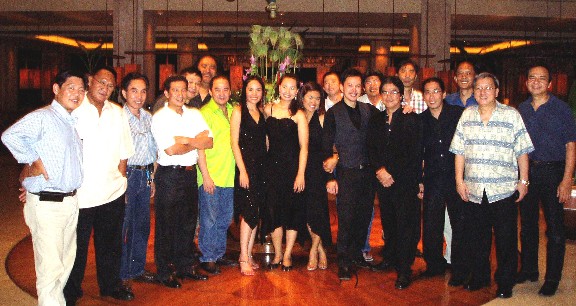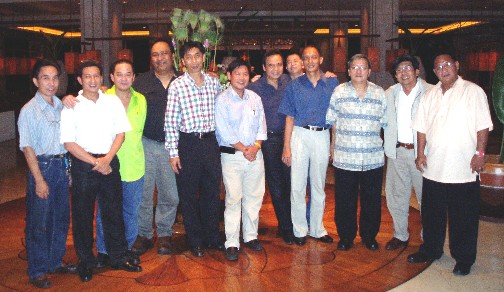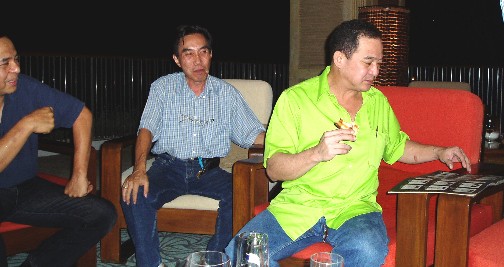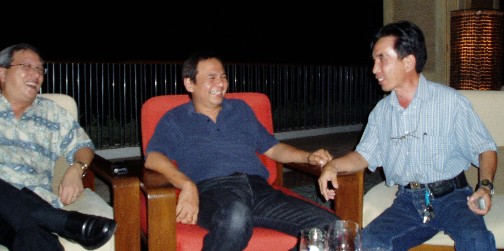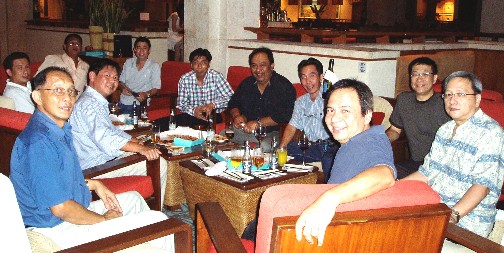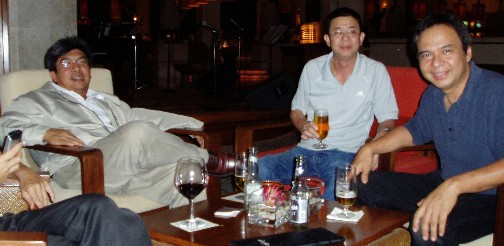 L-R -- Ramie So, Kerry Ong, Ike Sepulveda

Looking at Grade Six photos from left, Ike Sepulveda, Tommy Young, Butch Oporto

Enjoying a good joke from left, Victor Chua, Ike Sepulveda, Tommy Young

Clockwise from bottom left, Alex Yu, Robert Go, David Hermosisima, Ado Pono, Kerry Ong, Virgie Co, Marc Canton, Tommy Young, Paul Tam (Guest), Victor Chua, Ike Sepulveda

The Dirty Dozen from left, Tommy Young, Dave Hermosisima, Butch Oporto, Marc Canton, Virgie Co, Robert Go, Ike Sepulveda, Kerry Ong, Alex Yu, Victor Chua, Ramie So, and Ado Pono

With the band Velvet Mood, from left, Robert Go, Ado Pono, Tommy Young, Dave Hermosisima, Paul Tam (Guest), Marc Canton, Butch Oporto, Kerry Ong, Ramie So, Virgie Co, Alex Yu, Victor Chua, Ike Sepulveda