BisayaBulletin.com

From our little Visayan corner to the global community...

A Child's Heart Sings--Loboc Children's Choir

Written by May T. Mediano

May 19, 2008

The angel's voices burst through the gathering silence as they slowly walked along the aisles of the UC Riverside Auditorium towards the stage singing songs of church heritage and worship.  They sang the Ave Maria, Salve Regina, Canticorum Jubilo to name a few.  Their voices, so pure and angelic make you think you're in a miraculous state of existence, or perhaps in a different state of mind.  You wonder where these voices would have come from, so pure and childlike. 

The voices are of the Loboc Children's Choir performing at the University of California, Riverside, last April 25, 2008.  Founded in 1980, they are a "cultural treasure" from the town of Loboc, Bohol, renowned in its long history of creative culture in the realm of music.  Loboc prides itself of a generation of musicians and composers.  Through the centuries starting from the Spanish colonial period, Loboc has thrived on rondallas, musical bands, adult choirs, and brass symphonic ensemble. The Loboc Children's choir, all thirty of them, ranging from ages nine to thirteen perform a repertoire of children's songs, classical, folk, and modern.  They sing to foreign dignitaries, VIPs, and tourists.  They have been invited to sing and compete in various cities around the globe promoting cultural talent in Vienna, Barcelona, Beijing, HongKong, Canada, and the US.  They were granted an audience and performed before Her Majesty, Queen Sofia of Spain during a cultural visit to the Philippines. 

With great adulation and admiration from an overwhelming audience at their recent concert in UC Riverside, they bring their music a multitude of hope, love, and joy to the many people who are touched and have found meaning through the sound of their heavenly voices.  As they ended the night with their finale, "Light of a Million Mornings", it struck a chord for these beautiful children who are the instruments of light and joy to the many mornings to come.  Indeed, they are a great cultural treasure to the town of Loboc, also called the "Music Town" of the island province of Bohol.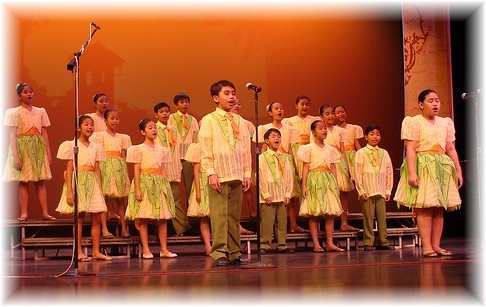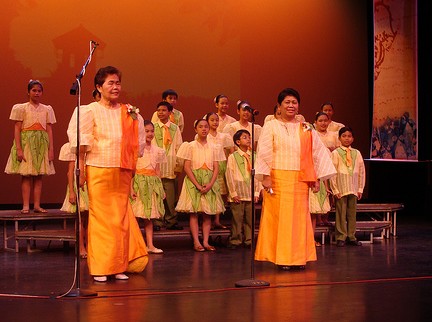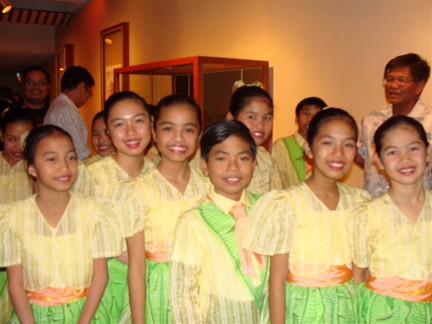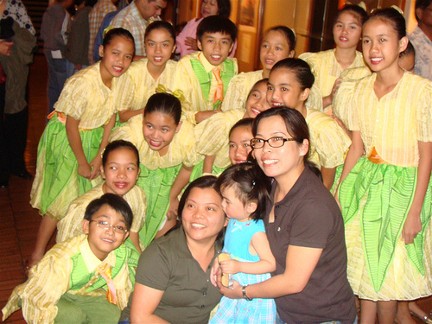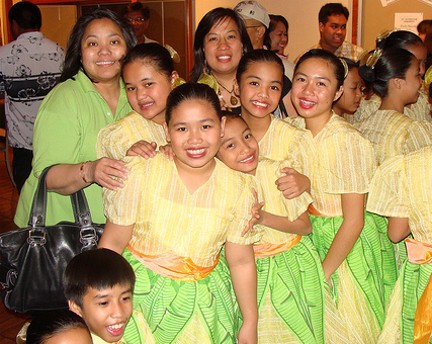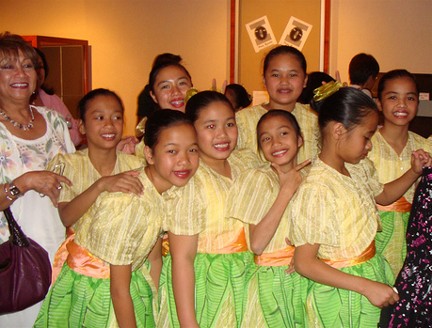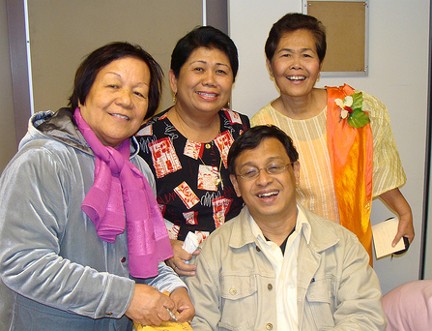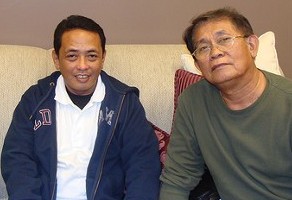 Video clips of the Loboc Choir in Riverside, California

Kagawad Bebot Sumampong, and Hidolito Taldo (Municipal Secretary/Group Chaperone)

Children after the concert accompanied by one of the LA hosts, Bob and Charito Galang

Nerea Jimenez (Finance Officer), Lina Jala (Accompanist), Alma Taldo (Musical Director/Conductor), and the dynamic Mr. Lutgardo Labad (Tour Director and award winning Musical Score Composer)

Send your comments to:

Related Links:

Alma Taldo (Musical Director/Conductor), Lina Jala (Accompanist)

The Choir

Acuna,  Marjorie Tadlip

Anino, Apple Mae Calipusan

Balili, Marigold Limbago

Baliton, Rica Calipusan

Baquial, Charlene Grace Silagan

Budiongan, Marylou Ormac

Calipusan, Jenali Alexis Mandin

Calipusan, Kent Henryl Salaga

Dalagan, Mary Belle Angelie Calipusan

Labajo, Nicole Henderson Calipusan

Macadaeg, Ivy Kristel Malig-on

Maquindang, Bernarose Uefrace Requierme

Mondilla, Marriah Carey Delig

Navarro, Vea Dalagan

Peligrino, Dave Gabriel Inte

Sarigumba, Miguel Vince Parmisano

Sarigumba, Hazel de Cano

Suganob, Anna Marie Cabajes

Sumampong, Paul Delfin Anino

Varquez, Leomel Clark Lelis

Varquez, Zack Elmer Jongson

THE STAFF

          Alma Fernando Taldo       Conductor

                        Lina L. Jala      Accompanist

               Lutgardo L. Labad      Tour Manager

                                                Staging Director

                  Nirea S. Jimenz      Production Manager

              Teodula Liz. S. Cal      Assistant Conductor

            Jerameel D. Decasa      Technical Director

        Gemma Gina P. Cabahug      Costume and Make-up Mistress

                 Hidolito C. Taldo      Stage Manager

                                                Personal Assistant to  Conductor

                    Leon Calipusan       Mayor-LGU Representative

           Natividad O. Mandin       Chaperon

               Pablio Sumampong       Chaperon 

                    Evelyn C. Silva       Production Assistant/Liaison

             Charo Mae J. Apipe       Production Assistan/ Liaison

                      Emmanuel Boc       Production Assistant/ Liaison

                  Celinda Larracas      Assistant Accompanist