BisayaBulletin.com

From our little Visayan corner to the global community...

Estrella Besinga Sybinsky, "Portents & Promises…. "

Written by May T. Mediano

April 24, 2009

A book by Estrella Besinga Sybinsky, "Portents and Promises:  Echoes of Politics, People and Places" is a collection of free verse that is reflective in thought about people and places, ideas and political themes.  In 1978, she was awarded in Hawaii as one of the Outstanding Young Women of America.  A daughter of a lawyer and a schoolteacher as parents whose ancestral home is in Guindulman, Bohol, she is a true blue Cebuana.  She grew up and resided in Lahug, Cebu City where she finished her high school from the Colegio de la Inmaculada Concepcion and college with a BA Political Science, Cum Laude from the University of San Carlos.  She then came to the US to pursue her graduate studies at the East West Center in Honolulu, Hawaii where she settled for 26 years with a loving husband and two grown daughters.  Estrella Besinga Sybinsky taught Political Science at various universities in the US.  They now reside in Ellicott City, Maryland.

Read through Estrella Besinga Sybinsky's biographical sketch.  To avail copies of her book, please email bbc@bisayabulletin.com.

BIOGRAPHICAL SKETCH: 

ESTRELLA BESINGA SYBINSKY, MA, ABD

Written by the Author

Estrella Besinga Sybinsky taught Political Science courses for Sonoma State University in Northern California, Indiana University Purdue University Columbus in Indiana, and Butler University in Indianapolis.  She is a retired Professor in Political Science from the University of Hawaii, Windward Community College campus (teaching for twenty years and served as Acting Assistant Dean of Instruction for one year).  She taught American Government, World Politics, Presidential Politics, Ideas and Institutions and Introduction to Political Science courses.  Her teaching style encouraged students to think deeply and participate in outreach activities to achieve a social good that benefited the community.  At the University of Hawaii, her classes regularly sponsored public forums on significant political issues, nationally and internationally. She was one of two campus faculty who pioneered the delivery of distance learning, reaching her students twice a week nightly on public television. Complementing her teaching, Estrella's activities included service as: state delegate to Hawaii and Indiana party conventions, member of the Governor of Hawaii's School Advisory Council, Collegiate Press Editorial Advisory Board member, chair of the University of Hawaii's system wide Committee on Students Resident Status, member of the Marin County steering committee of the World Affairs Council in San Francisco, Speaker for the Hawaii Committee for the Humanities, Public Humanities Speakers Program, guest speaker for community groups and active participant in the Lector ministry and religious adult education of her church parish.  She has been noted for her excellence in teaching at the University of Hawaii, Windward campus and cited in 1978 as one of the Outstanding Young Women of America from Hawaii.

Estrella Besinga Sybinsky is retired from teaching and enjoys writing poetry, feature articles and children's stories.  She has completed two children's book manuscripts, Lolo Emong's Adventure With the Tree Spirits, a spin off from a short story that won special mention at the University of Hawaii, Second Conference on Literature & Hawaii's Children: A Bridge to Magic Realms in 1986 (co-authored with her daughter, Andrea Catherine Sybinsky)  and a short story titled:  Pilar Comes To America.  She is finishing a book of poetry titled, Singing from the Inside Out: Poetry of the  Human Condition, and has several editorial essay articles written. She published two books: Ideas and Institutions, A Reader (Oklahoma: Follett Custom Publishing, 1999) which was sold

at the SSU bookstore for her class at Sonoma State University and Portents & Promises: Echoes of Politics,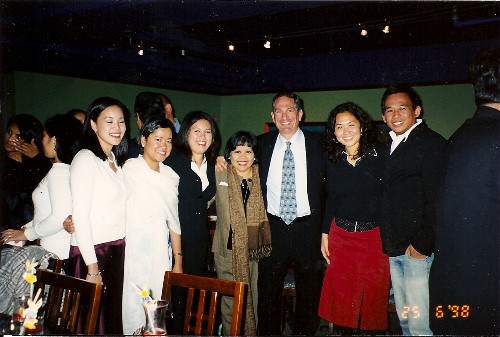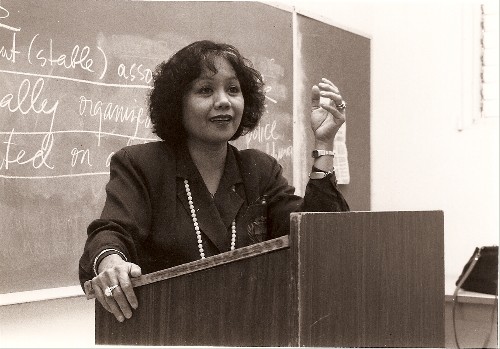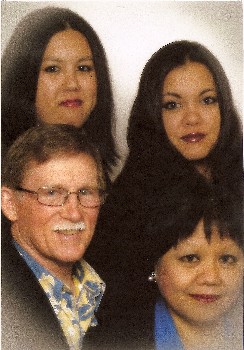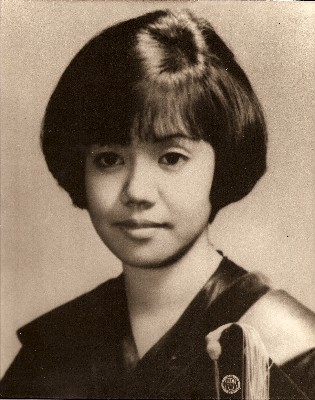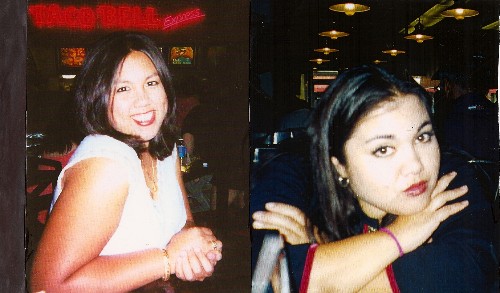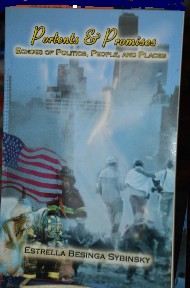 People and Places (Indiana: Authorhouse Publishing, 2002). Her book of poetry has been displayed at a George Washington University book fair in Washington D.C., and a book signing and reading at the Philippine Consulate in Los Angeles, the 13th Annual LA Times Festival of Books at the UCLA campus in CA, Borders in Franklin and St. Mary's Bookstore in Nashville, Tennessee.  Estrella's writings have also appeared in campus literary journals, East West Center student publications and the Honolulu Star Bulletin.

The author is a naturalized American and traces her roots to the Philippines.  She grew up in Cebu City and graduated from Colegio de la Immaculada Concepcion in high school and the University of San Carlos with a BA in Political Science, Cum Laude.  She was elected Secretary of the Lex Circle, the Law School Student Organization in 1969 during her Law school sophomore year (while teaching part time at the University's Political Science Department). She was a feature writer for her high school Blue & White official paper and she won 1st place in a declamation contest at CIC.  In college, she won gold and silver medals for inter-collegiate debates, a silver medal for her poetry.

PORTENTS & PROMISES:

ECHOES OF POLITICS, PEOPLE AND PLACES *******BY Estrella Besinga Sybinsky

(Taken from Press Release, Authorhouse Publishers)

In her stunning collection of poems, Estrella Besinga Sybinsky moves seamlessly from serious matters of race relations to personal reflections of guilt, happiness, love and bravery.

Besinga Sybinsky begins her book with a lengthy narrative poem that underscores tensions among different races – Jews vs. Arabs, Whites against Blacks, Muslims in conflict with Christians.  She emphasizes that we all have alienated ourselves from one another.  "We belong and they are foreign. We are Jews and they are Arabs. We are white and they are black. We are Muslims and they, Christians."   Besinga Sybinsky writes, "and all of those festivities speak of commonalities we share in laughter, while others frown and watch detached like alienated zombies."  Her succeeding stanzas evoke deeper sadness over our capacity to inflict pain against those we perceive as enemies.  In contrast, Besinga Sybinsky's tone mellows in the last few lines showing us that we are compelled to live through our daily  goals and chores amidst unresolved issues bigger and older than we are.  It is only at dusk, she says, that we get to reflect on "acts and incidents both bad and good, of values gained and lost E2 and shudder at those things embarrassing."

Portents & Promises haunts the memory and stirs the spirit by retelling and reviewing our flaws and shortcomings.  But Besinga Sybinsky paints these imperfections with delightfully colored verses and rhymes.  She sees light in the middle of darkness and challenges sadness with hope.

Besinga Sybinsky has taught political science at several US universities. A daughter of a lawyer and a schoolteacher, Besinga Sybinsky and her husband have been active in various social and political groups and institutions.  They have two grown daughters and currently reside in Ellicott City, Maryland.   

Undergraduate graduation picture from the University of San Carlos, 1968. At right is the book, "Portents & Promises"

Smiling to the left is youngest daughter, Andrea Catherine Sybinsky (she works as Senior Program Manager for Communications Consortium Media Council in Washington DC) and to the right is Cristina Felice Sybinsky (Communications

Consultant for Sprint in Pittsburgh). 

Dinner reception for the Fellows at the Asian Pacific Leadership

Program, East West Center, Honolulu HI.  My husband and I attended as former grantees to the East West Center.  To my left is a Professsor with the East West Center, to my left is our daughter, Andrea who was a fellow at the APLP, East West Center.  The four other persons just came as fellows to the APLP, East West Center

Recent family picture. Top left, Andrea.  Top right, Cristina.  Bottom left, Peter Andrew Sybinsky, bottom right, Estelle Sybinski