BisayaBulletin.com

From our little Visayan corner to the global community

Flying Sky High and Caring First Class!

Written by May T. Mediano

February 12, 2008

Maria Elena So Sy is the youngest daughter of a brood of four brothers and three sisters from a Filipino-Chinese family that enjoyed privileges attributed from a life of hard work, perseverance, and virtue.  Theirs was an open house to anyone seeking shelter, a shoulder to cry on, an understanding listener, or simply a free meal to go to after a long and tiring day.  It was not unlike an emotional depot where people could unburden themselves of life's encumbrances.  It became a habitual hangout for friends and acquaintances wherein one's visit reinforces self worth and a strong sense of belongingness that can only emanate from one big happy family.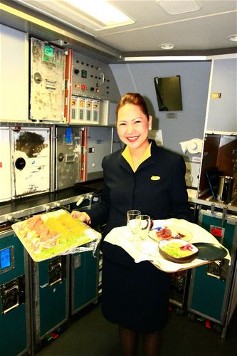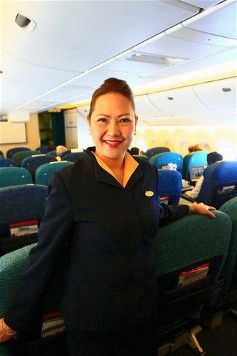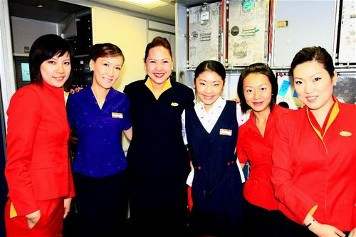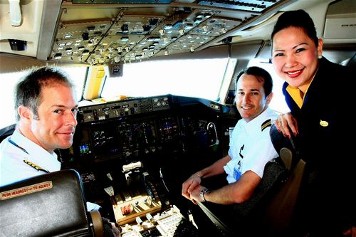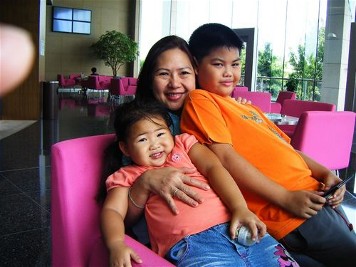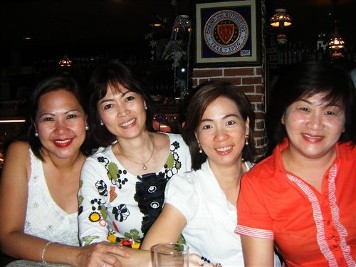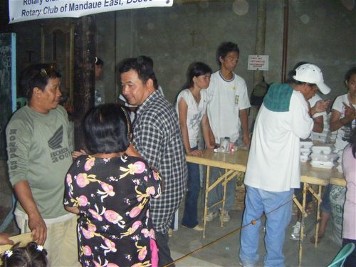 Her milestones span an education from Sacred Heart High School in 1979 and earning her Bachelor's Degree in Banking and Finance from the University of San Carlos in 1983.  Statuesquely tall, comely, and charming, she did freelance modeling with Loalde, Levis, Wrangler, Albert Ariba, and Rustan's throughout her college days.  After graduating in 1983, she worked at Puerto Azul as an Account Executive from 1983-1985.

In 1985, Elena's dream to see the world came true when she joined Cathay Pacific Airlines as a Junior Flight Attendant.  She moved quickly through the ranks, becoming a Flight Purser in 1987, a Senior Purser in 1991, and finally achieving the lofty position of In-Flight Service Manager in 2007.  This demanding job brings with a plethora of responsibilities, which include attending to passenger concerns, troubleshooting delayed flights, handling medical cases, overseeing technical facilities, catering to VIP's and interfacing between the Captain, Flight Officers, Cabin Crew, and Passengers.  Juggling all these duties is no mean feat, even more so if you consider Cathay Pacific's international flights to Europe, Australia, American, the Middle East and Asia easily average sixteen hours or more.

Ranking high among Elena's challenges are being able to effectively communicate with demanding passengers and to deal with medical cases requiring emergency that necessitate aborting takeoff.  On the other hand, definite perks include opportunities to meet celebrities and VIP's such as former US Vice-President Dan Quayle and his wife Marilyn, Oscar winners Robin Williams, Mat Damon, and Julia Roberts; action star Jackie Chan and even Princess Diana.  Encountering these beautiful and illustrious people during, oftentimes, unguarded moments are distinct highlights in Elena's career, serving as counterpoints to some of the more routine, repetitive, even mundane aspects of flight chores. 

And yet Elena isn't one to rest on her professional laurels.  While some take a full rested break in between flights, Elena's altruistic being goes to her charity work. Together with her good friend, Glenn Magsaysay, she is involved in a charity benefiting the less fortunate such as the homeless, deaf, mute, and blind.  While the deaf-mute scavenges food refuse, her charity involvement has become a vital catalyst for the deaf-mute and blind to be trained to do landscaping, arts, crafts, livestock, and planting and harvesting vegetables for market.  With this advocacy deeply ingrained, she regularly volunteers in fund raisers, most notable when she participated in a Reina Elena pageant sponsored by Quota International, an organization dedicated to alleviating the plight of the blind. She also organizes an annual Christmas food drive and never misses a chance to further disseminate her humanitarian agenda.  Recently she appeared on local TV show, "Wake Up Call with Sister Nancy" to talk about her charity work.  Through it all, Elena manages to maintain a balanced and wonderful family life.  Her stamina and energy are fueled by her love for Brian and Isabela, her two bundles of joy.  Complementing her aspirations is Elena's devoted partner, Alfred Chua who strongly supports her myriad endeavors.   "Fred" as he is fondly called, is a businessman from Surigao, engaged in the construction and cement business.  Known among close friends to be a great cook,  Fred whips up tasty and hearty meals whenever Elena comes home from her travels.  As a pair, they often share their blessings by visiting indigents in the neighboring towns, quietly handing out bags of rice and canned goods in the early hours of dawn.

At this very minute, Elena may be airborne to New York, or resting in a lounging room in Hong Kong, possibly jetlagged, but her virtue of putting others ahead of herself will always come to the fore.  Whether providing excellent service to a dignitary from a powerful country, a European princess, a Hollywood star or a sultan from the Middle East, Elena's integrity and passionate work ethic carries over to the advocacy she bears for the less fortunate and destitute, while tenderly ministering to the needs of her family.

At the end of the day, when you reflect on what has transpired, on what has been achieved, rest assured that every effort to begin with was for the best knowing that it was well delivered and that all are privy to a job well done.  Carry on!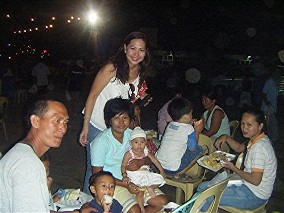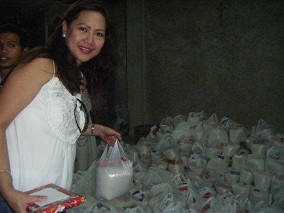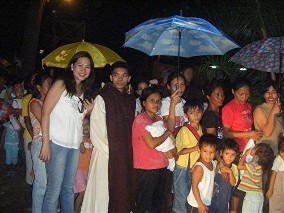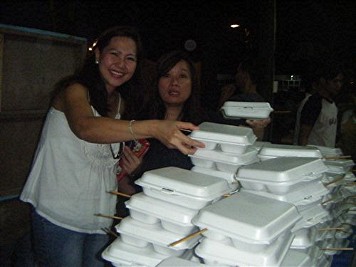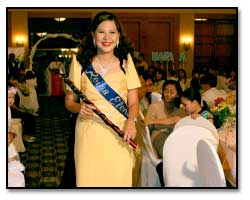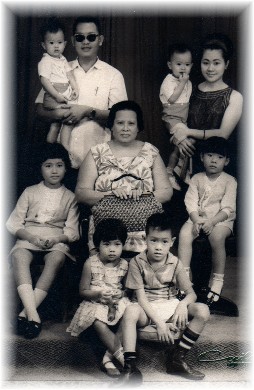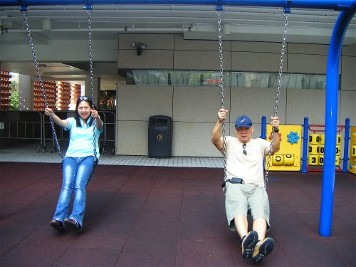 Excerpt from the late Jo Magsaysay in her Sunstar column, "Quota's Santacruzan"

…"FOUR years, a long time to coax, plead, nag and beg but finally, flying home from Washington D.C. after a conference on education, Lydia Ibañez convinced the Cathay Pacific flight stewardess to become Reina Elena of the Quota International Santacruzan.  Persistence and patience paid off with a prize winner! Statuesque, all of 5'8 tall, Maria Elena Sy is a regal beauty, ivory-skinned and shapely, the sensuous figure of a woman fulfilled unlike the anorexic, bulimic starvelings that are so aspired by models, moviestars, and socialites. Maria Elena has been a flight attendant for Cathay Pacific over 20 years but is still reluctant to be in the limelight as Reina Elena.  She will be wearing a gown by Jude Elardo, a comparative newcomer in the local fashion world but whose designs, imaginative, bold and beautiful, have already captured the fancy of the so-called "fashionistas" of Cebu…

Twenty-eight years since its charter, Quota International has become as much a part of Cebu as the city's marginalized poor and underprivileged, feeling, as it does, the wants, and filling in its needs. Ever caring, ever sharing, ever giving, the wonderful ladies of Quota International are there where they believe they are most needed. They established the First High School for the Hearing-Impaired, donated a speech laboratory at the Mission for the Deaf. They have donated their time and money to abused women and children, to the rehabilitation center for the handicapped. They took over the management and maintenance of Sawang Calero Day Care and Guba Day Care centers providing supplemental feeding to pre-schoolers, solving malnutrition problems.

They acted as conduit and facilitated the donation of P300M worth of medical and surgical equipment from Thunder Bay Regional Health Science Center in Thunder Bay, Ontario Canada to Don Vicente Sotto Memorial Medical Center. So much has been done but there is still so much more to do. The Santacruzan, a brainchild of Lydia Ibañez, charter president of Quota International, has now become the major source for raising funds to keep all these projects going…"

Her inspiration:  Brian and Isabel

Elena with SHS 79 Batchmates (L-R:  Elena, Belinda Lim-Ynegente, Teresa Borromeo Que, Annabel Yu)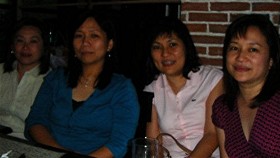 Other SHS'79 batchmates L-R Elaine Ong, Carmen Kimseng-Madarieta, Jocelyn Go-Melgarejo,and Eloise Calagos

Elena Sy in her advocacy in social work with Glen Magsaysay

Gathered from conversations with Elena's sister, Delsa Tan-Langford:

"...In addition to all of Elena's humanitarian triumphs, I would also like to cite her one very important and significant role in our family. Elena is our family Ambassador of Goodwill, a courier, a lovable quidnunc and human search engine connecting our brethen and extended-family relatives abroad.  Privileged by her peripatetic occupation she has found and linked our family's long-lost relatives in different parts of the world. Most of all, I uphold her indomitable spirit and energy for years of juggling home and career. Albeit having coped with her fair share of thwarted relationships, she has finally triumphed and found enduring happiness, fulfillment and the best of both worlds...."