BisayaBulletin.com

From our little Visayan corner to the global community...

My Personal Pilgrimage: Walking the Camino de Santiago

By GM Sanchez, MD

July 28, 2008

For centuries, pilgrims, or peregrinos, have followed ancient trails across northern Spain from as far away as France in the east (the trail is also called "Camino Frances") to Santiago de Compostela, the country's northwest corner near the Atlantic coast, where St. James the Apostle is said to be entombed in the Cathedral. This past September there were more than 8,800 pilgrims from all walks of life, young and old, from many nations, though mostly European. Pilgrimages peak during the summer with several thousand pilgrims and trickle down during the winter months. People undertake this long and arduous pilgrimage for many reasons, mostly religious.  My own journey was very personal, an act of penance, an atonement for my sins.

Modern day pilgrims walk from a city, town, village or hamlet and rest at the end of their walk at a refugio or albergue.  These are humble, very cheap (1-4 Euros) accommodations provided and run by various organizations: monasteries, the parish, the town hall (ayuntamiento), hostels, or even by individuals who devote themselves to meeting and looking after pilgrims. It is always a good idea to bring your own sleeping bag, not only for hygienic reasons; but because when albergues are full, you end up sleeping in hallways or on the church floor after the 8 PM pilgrim Mass. In cities and large towns there is a parador or pousada, expensive hotels with all the conveniences of modern life, where most of the wealthy pilgrims stay: places with running hot and cold water, tub, shower, TV, and above all, peace and quiet.  You can lose a lot of sleep staying at an albergue where many people share one huge room, sleeping in double bunk beds.  And the cacophony of snoring all night long! I swear the old building shook when a few big-time snorers were at it at the same time.

It was 4:30 in the morning of 30 August 2002 when the alarm clock sounded at our house in Trnava, Slovakia.  My wife, Anna, who had everything set for my trip, drove me to Vienna, about an hour and a half away. We arrived in Vienna with only a few minutes to spare to catch the bus that would take me to Westbanhoff train station. We said our good-byes. She wished me luck, with the usual admonition to be careful. She said she would pray for me everyday. As we embraced I thanked her for all the help she had given me throughout the year in preparation and for giving me the opportunity to make this once-in-a-lifetime spiritual journey. I also told her that every step that I made in this pilgrimage would be an act of penance; we both were aware of my need to repent.

The train from Vienna to Paris, the initial phase of my pilgrimage, was very comfortable and smooth. In Paris I only had 40 minutes to catch the train, at the other end of the city, to Pamplona, but the Metro, or subway, was so efficient and punctual I was there in 15 minutes.  I had a sleeper accommodation, surely a misnomer as I hardly had any sleep. I woke up every time the train stopped at a station. And yes, one darn mosquito kept on buzzing my ears.

I arrived in Pamplona about noon the following day, 31 August.  I took a cab to the Cathedral to have my credencial, or pilgrim passport, stamped. As part of the signing in, pilgrims are asked to fill out a form that asks the reasons for embarking on the pilgrimage: 1) Life transition, 2) Cultural, tourist, 3) Architectural, tourist, 4) Sport - many young people do it just for the physical challenge. 5) Religious - the force of faith and atonement that have motivated pilgrims for centuries, 6) Healing - this is the category that broadly defines people who are suffering, 7) Spiritual, 8) Bereavement. I checked off Religious and Spiritual and returned the form that looked like a paper in its thousandth generation of replication. At the Cathedral entrance the young lady helping me asked about my plans. I told her I wanted to take the 6 PM bus east to Roncesvalles near the French border and start my walk westward to Pamplona from there the next day.  She looked very confused. I offered in a misguided attempt to explain. She wrote in her journal, obviously more confused. As a native of the area, it made no sense whatsoever to her for me to travel to Roncesvalles from Pamplona only to walk back through Pamplona. "Why not just start in Pamplona like a reasonable person would?" was her unspoken question.  Eager as I was to start, I made an instant decision to start from Pamplona. That would make it well over 700 kilometers to Santiago de Compostela that I would try to walk in less than 30 days. I asked her to stamp my pilgrim credencial with her official "sello" or stamp that I had in fact started my walk here.

"Follow the yellow arrows," she instructed in pure Castilian Spanish, "not the red or white arrows, only the yellow." I put my credencial away and paid 1 Euro to go inside the Cathedral. In the cool interior of the church I prayed for Divine guidance in my journey.

I glanced at my watch as I got out of the Cathedral - at exactly 1 p.m. I hit the trail.  My backpack was heavy at 25 pounds, and it got heavier as I went along.  It took almost an hour to walk out of Pamplona. I walked through crowded sidewalk, heavy traffic, always on the look-out for the yellow arrows painted on all sorts of places: sidewalk, street, curb, side of buildings, lamp posts, tree trunks, big rocks, you name it.  Of course there are official signs, some of which are pretty artistic, using the official pilgrim sign, the concha, or seashell, pointing the direction. Having started late, I found myself walking alone, except for a few bikers.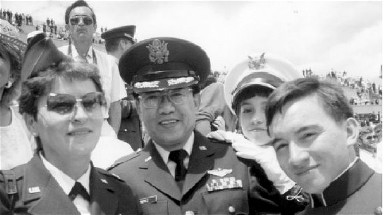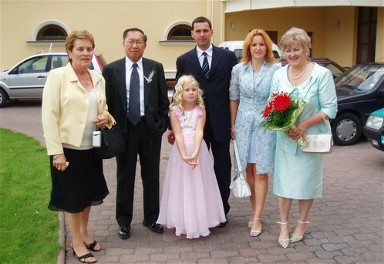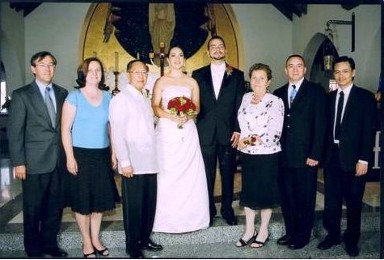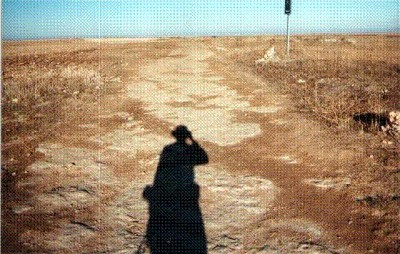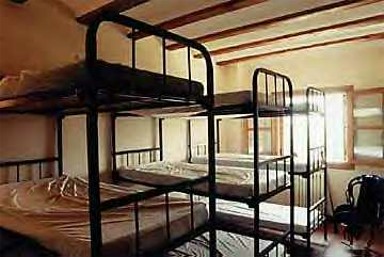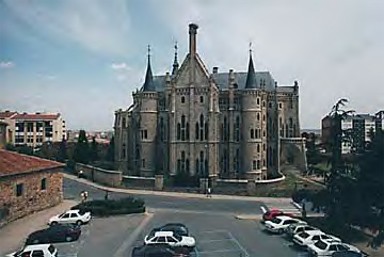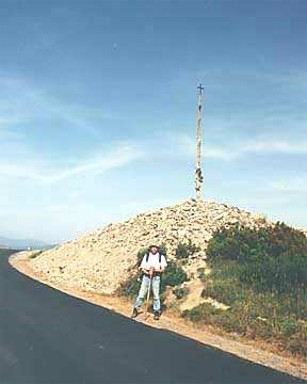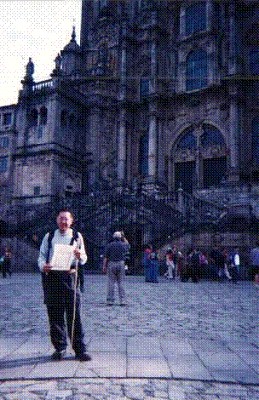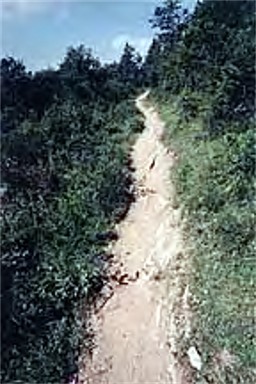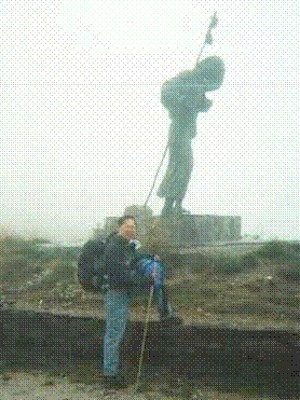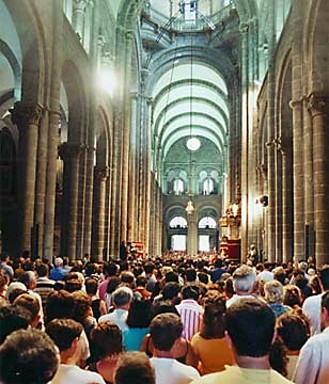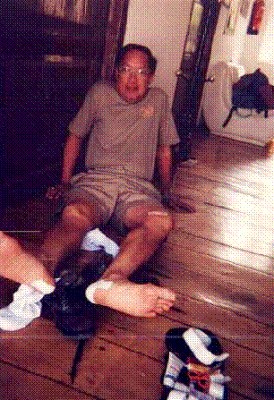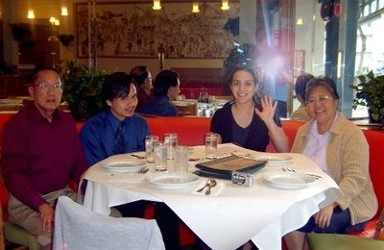 My initial destination, Puente la Reina, was about 23 kilometers away. The route crosses a high mountain ridge with a long line of wind turbines.  Halfway up the mountain my enthusiasm for my personal undertaking began to wane.  At the top of the mountain I questioned my sanity. My guidebook warned about the hazards on the descent because the path was very steep and rutted with rocks and loose stones, and not recommended for bikers. Trudging downhill was very difficult: my knees buckled and hurt so badly that I fell several times.  At this point I told myself that I should not be doing this at this age.  I had one more hill to climb to reach the village with an albergue and call it a day.  I had been walking for over six hours, dead tired, and wondered if I could make it to the top.  As luck would have it, a farmer on his way home to the village observed my pitiful condition, asked if I wanted a ride in his tractor.  Of course!  I was so grateful I was almost speechless.

The albergue, run by the Padres Reparadores, was next to the monastery and very near the church, the Iglesia del Crucifijo, founded by the Knights Templar in the 12th century. Bunk beds with 3 tiers!  By the time I registered using my credencial, the warden and volunteers were already signing in bikers who are accommodated

The credencial identified your profession.  Listed as a doctor, I was asked if I wanted to help other volunteer medical providers working in the infirmary. There were a few patients waiting to be seen, mostly for ugly looking foot blisters. The most serious ones were from bikers who got into accidents. They were taken to the town hospital. I took a biker with an obviously broken wrist to the hospital where I learned that pilgrim ailments run the gamut from simple sore throat to heart attack, severe depression to drug/alcohol withdrawal.  And pilgrims are treated for free.

It did not take very long for my broken Spanish to get fixed (well, almost): to turn left is izquierda, right is derecha, and straight is derecho.  If you want a map and guide to a city, you ask for plano y guia. Given the fact that people along the camino have been dealing with pilgrims for generations, a local will give you directions like it is he and only he who can give you the best direction, no one else!  Holding my arm, one woman once gave me direction that would take me to the next town; though all I wanted to know was how far it was to the nearest fuente or fountain so I could refill my water bottle. Aside from the name Santiago, St. James is also called San Diego, Jacobo, or Jacobeo. Prince William of England is Principe Guillermo to locals. I also learned to ask "Tienes habitacion para una persona?" if I wanted a room, not cuarto.  The sign outside a hotel says "completo" if there is no vacancy. 

Pilgrims nowadays come equipped with all the advantages that modern technology can offer: from very light and comfortable hiking gear and equipment, to Walkman, mobile phones, laptop computers, etc. The ever resourceful Germans use detailed maps that plot the trail, distance, elevation, obstacles, and of course, the location of the nearest bar or cafe.  (It is not unusual to see them bending their elbows with large mugs of beer with bocadillo or tapa at a midmorning rest stop). Except in far-flung villages or hamlets with no telephone service, I called my wife in Slovakia at every opportunity.  I also sent emails to relatives and friends, greeting them from wherever I was in my journey, constantly updating them of my progress.  My greatest surprise was seeing a young boy, from out of nowhere, leading a herd of cows to a meadow, excitedly talking to somebody on his cell phone! I couldn't help but shake my head at how far, literally, personal telecommunication has gone.

Pilgrims pour out of an albergue, hotel, pension, etc., in the morning in groups, couples, or individually, such as myself.  As time and kilometers go by, I would overtake slow walkers, and fast walkers would overtake me, greeting locals or each other with "Buen camino," or "Buenos dias."  I once joined a group of Spanish pilgrims who prayed the Holy Rosary every step of the way.  I stayed with them through all of the Sorrowful Mysteries, and moved on. Later the crowd slowly thinned out, and much later I finally found myself walking all alone (about 90% of the time). This was the time when I communed with nature, or else went into a contemplative mode. I consciously peeled off layers of garbage from my mind, enabling me to revert to very early childhood memories long forgotten, both happy and sad. Images of departed loved ones and friends drifted by; important milestones in my journey through life: the road not taken, the many mistakes, triumphs and failures that forged my character and personality.  This was one of the many benefits that came out of this pilgrimage, the chance to solidify goals and objectives and a promise to God to make amends.

only after walkers. We got the run-down on the rules: find a bunk, Mass at eight, lights out at ten, on the road by eight in the morning. After they stamped my credencial and I paid 4 Euros (which included breakfast), I found a top bunk. There must have been over 50 other very tired pilgrims. I was 7th in the order for taking a shower. After spreading my sleeping bag on the mattress I tried to take a short nap before my turn to clean up.  I probably fell asleep before my head hit the pillow because the next thing I know I was startled into consciousness very early the following morning.  The warden had everyone hustling to be out the door by 8 a.m. sharp. They needed to clean up the place and get ready for the next batch of pilgrims.  It would take a doctor's word to stay another day.

It was on the 4th day of my walk that I developed painful blisters in both feet. I self medicated but in order to let them heal properly I had to stop walking for a day or two.  This just was not in my plan, so I continued.  I suffered, every step hurt, and I had to stop often for a few minutes of foot care.  One evening when I called my wife I told her how every step of my journey brought so much pain not only to my feet but my entire body.  But this was one of the reasons for my trip, to make amends even if I had to endure great pain and discomfort.

The downside of being alone is the fear of getting lost, robbed, or, inside a dark forest, seeing some scary ghost or spirit.  Legend has it that the devil will show himself to you at least once to discourage you from making this journey.  More than once I was overwhelmed by this fear. All alone deep inside a eucalyptus forest, having goose bumps all over, I prayed aloud, negotiating with the devil to please just show up another time when there were other people around! 

I was walking an average of 25 kilometers a day in all kinds of weather and terrain.  The saying "sunny Spain" is indeed true and I endured the scorching temperature along the vast plains, endless vineyards, rocky roads, undulating farmlands, and over

desolate, windswept meseta or plateau. (I brought an umbrella with me and called myself a "peregrino con payong." This heavy-duty umbrella also served me well during pouring rain and strong winds.)  I walked through a country steeped in magnificent beauty, art, history and faith. I admired old Roman bridges, castles, churches, and cathedrals, passing through big cities like Burgos and Leon. I went inside famous museums. I pigged out on chocolates in Astorga, once the chocolate center of Spain. The hard climb, for 52 kilometers straight up the mountains of Galicia, with the rain, high winds, and cold temperature, was rewarded with spectacular scenery. From across the valley, Portomarin is a very beautiful, picturesque town, like beholding Shangri-la. Perhaps the most physically challenging part of my journey was the climb up O Cebriero, a tiny and very, very old hamlet with about a dozen or so structures dating back to Celtic times. Here I had an almost mystical experience.  My guidebook had all sorts of warnings: "allow well over 3 hours" to scale the 8 kilometers of very steep and continuous climbing, "do not attempt the climb in bad weather," "plan to arrive during daylight," and "less fit walkers are advised to spend the night at the halfway point."  That was indeed a very daunting challenge. Veteran pilgrims do not call this section of the camino the "dangerous zone" for nothing.

At this point, I had walked for over three weeks, so I felt that I was up to the challenge, confident, in fact, of my excellent physical condition. Little did I realize how frightening the obstacles were: boulders, muddy and slippery slopes, dark and narrow passages. I started my walk that morning at Villafranca del Bierzo, a small town about 22 kilometers away. The 8-kilometer climb to O Cebriero started at the village of Hospital Ingles. At about a 3rd of the way up I felt hungry and tired. All I had with me were energy bars that my wife made sure I would carry for emergencies, and water. After a few minutes rest, I continued the climb, using my walking stick effectively to help push me up. Halfway up I was very tired and rested again near a bunch of grazing goats. In a little while I struggled to my feet, bade the goats adios and continued. My backpack was a heavy burden; my feet were burning, my back and foot blisters began to hurt badly. My spirits started to deplete along with my water supply.  I did not want to look up because the top looked endless. I pushed myself beyond my physical limits, concerned that if I stopped again I would not be able to summon the will or the courage to force my body to move. I walked like an aged traveler, every step measured, made carefully, slowly. It seemed like time stopped; all that was left was the next step, and the pain.

Another pilgrim later told me he was so exhausted at this point that he became ill and vomited before continuing. Here I was, only a few days from accomplishing my goal, feeling unfit, almost defeated, genuinely worried about the prospects of completing my journey. It required my greatest effort to move on, inching along in what was the most agonizing physical endurance test of my life by far. At over 1,400 meters elevation the air was thin. I felt my heart pounding very hard; at times it felt like it was going to jump out of my chest. I was overjoyed, thankful, and amazed to have reached the summit.  I staggered to the nearest

Bishop's Palace in Astorga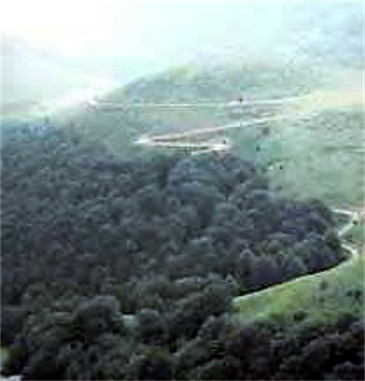 Continuous Climb up the Mountains of Galicia

house with a sign at the door that said "camas" with a drawing of spoon and fork! The thought of my wife, my children and my friends who were praying for me kept me going.  That gave me the strength to go on. I have no doubt that there is Divine guidance that someone watches over us. I felt blessed!

I was so exhausted I slept for a few hours.  Then I attended the usual 8 PM pilgrim Mass. After dinner, I decided to go back to the old church. (The Miracle of O Cebriero made the monastery famous all over Europe. The incident, corroborated by various historical and archeological sources, supports this account of the miracle: "at the moment of consecration the sacramental wine turned to blood, seethed and stained the white linen…The corporals remained in the Chalice and the Host on the Paten." In 1486 King Ferdinand and Queen Isabela, as pilgrims to Compostela, stayed here and decreed the place under the protectorate of the crown.) As I entered the side chapel, the relics (chalice, paten, and reliquary) of the miracle that happened here in the 14th century were dimly lit at the small altar.  I stood behind the back pew, holding a lighted candle, which I intended to place at the altar. Before I could kneel and pray I felt tears streaming down my cheeks. That really surprised me because I had no obvious emotion, just emptiness. I knelt and started to pray, this time with feelings of great emotion. For me, this was an unforgettable experience, an almost mystical occurrence I will relive for the rest of my days.

Another hair-raising incident happened during one of my early morning starts. It was dark and people were still asleep when I approached a quiet village. Not even a dog stirred. A strange looking man, hunched forward from old age with arms behind his back, spoke to me in a calm and low voice. "Regrese," he said, "ha perdido su camino."  Go back, you lost your way. Immediately I looked back. Sure enough, I saw the yellow arrow that I had missed.  I at once turned to thank him, but he was gone. Vanished.  It struck me like a lightning bolt that the old man might have been an angel. Whoever he was, it was quite a spine-tingling experience.

Along a gravel trail it is easy to hear footsteps, and I could more or less estimate when somebody overtook me. At one lonely dirt path I heard the unmistakable sound of footsteps behind me.  After a while I wondered if I was hallucinating because the footsteps got louder, but no one overtook me.  I looked back; no one was there. The question was not who was following me but why was I hearing things?

The guidebook was right about dogs not being a hazard at all.  I experienced this encounter with great anxiety. At a narrow alley with a pack of about half a dozen lazing in the sun, I cautiously tread my way in between the

Posing before a giant statue of a Pilgrim

sleeping ones.  The ones that were awake did not even bother to look at me, or sniff my trembling legs.  But a shepherd's dog is another story; its instinct is to protect the flock. Fearing intrusion, one came charging at me. I was frozen and horrified at the size of this monster. Not until after I drew my Swiss Army knife did the shepherd whistle for him to stop. Another whistle and the dog ran back to the guy who smiled and waved at me.  I wanted to show him my middle finger but decided against it because I was supposed to be in my best behavior during this journey.

September 26 was a very special day, my 65th birthday.  I remember waking up that morning with a sincere prayer of thanksgiving; and a big smile on my face: when I was a young and crazy kid growing up in Cebu I never dreamed that I would go on a pilgrimage at this stage in my life. After walking about 20 kilometers, I stopped at a sports store and bought myself birthday presents: a nice pair of hiking pants, socks, and shirt.  Then I treated myself to a very nice lunch.  The food along the camino is sometimes good, other times not so good. I particularly liked the "Ensalada Mixta," lettuce, onion, asparagus spears, tomato, green olives, and salmon, always with oil and vinegar dressing. I had this with almost every meal until I got sick and tired of it.  It is always safe to order the "Menu del dia," it is cheaper and quick.  This comes with a bottle of red table wine called "Tinto." When my order came the guy plopped this strange looking plate of food in front of me. Unsure of what I was going to eat, I asked, "Que es esto?" With pride he answered, "Pulpo," boiled octopus being the specialty of the region. I was getting close to the coast, near the end of my journey.

At Monte del Gozo I first saw the towers of the Cathedral in Santiago, about 5 kilometers away. It was early in the morning of 29 September. My heart started to beat faster with great joy and anticipation. At the outskirts of the city a familiar figure came out of the forest trail. It was Jacky, a retired French Foreign Legion officer I befriended two weeks before. We entered Santiago together. Some cars honked their horns. Drivers gave us the thumbs up. A woman at a balcony looked down, smiling, and clapped her hands slowly, silently. My head swelled! We headed straight to the Pilgrim Office to obtain the Cathedral's certificate of pilgrimage, the Compostela. After poring through my credencial that I had indeed walked the requisite distance (100 kilometers minimum to Santiago, 200 kilometers for bikers), I had an official certificate, with my name also written in Latin. I called my wife to let her know that I had made it. For an endless moment, no words were necessary. We were both crying…

My pilgrimage was officially over. I went to the noon Misa del Peregrinos at the Cathedral attended by hundreds of pilgrims and tourists. I had attended Holy Masses in some very fine and ancient churches along the camino, but this one was the most beautiful. Perhaps it was the solemn occasion, and being a lover of music like the pure blooded Cebuano that I am, I truly appreciated the fantastic quality of the organ music, and the sound of the choir was heavenly. The feeling of community with the congregation all worked together to make this Mass stand out.  The priests lit the giant silver botafumeiro and swung it back and forth over the crowd to our delight. (During medieval times the real purpose of this ritual was not only to fumigate the church but also to mask the stench from the pilgrims!)

Inside the Santiago de Compostela Cathedral

Holding the certificate of pilgrimage, the Compostela, in front of the Santiago Cathedral

My journey was over, finished, and I had survived. More than that, I learned about what I was capable of, about not giving up, and about Grace - especially about Grace, since I certainly could not have completed the pilgrimage without it. As I write this journal I am still learning from the experience. Its importance is only now becoming clear. This pilgrimage, like any, is on one level a metaphor for the journey we all take through life. Its secrets and lessons will continue to unfold for me as long as the Camino de Santiago holds a place in my heart.  FIN.

Anna, Bert, Monika at son James' USAF Academy graduation

With Ramon, Monika and Sr. Merced Sanchez, ICM

Daughter Monika's wedding with children Louis, Jana, James, and Ramon

Most recent picture with wife's family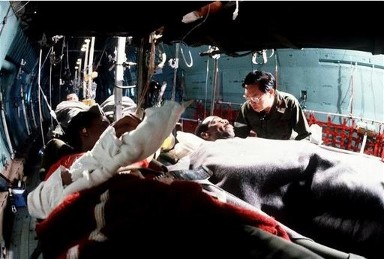 ABOUT THE AUTHOR:

Born in Mandaue, Cebu, to Colonel Fabian Sanchez and Genoveva Mercado of Tanjay, Negros Oriental. Siblings: Sr. Merced Sanchez, ICM of St. Theresa's College, Cebu; Emma Sanchez-Lozada; Colonel Alexander Sanchez, PMA Class '63; Evelyn Sanchez.

Elementary Education - St. Theresa's College, Cebu. Notable classmates since kindergarten - Francisco Kit Borromeo, Manuel Cuenco, Jr., Manuel Agustines.

High School - USC Boys High School. Notable classmates: Attorneys Bernardito Florido, Regalado "Dodong" Maambong, Felimon Fernandez, Judge Oscar Abella, and businessman and concert pianist Eddie Dakay.

Doctor of Medicine - University of Santo Tomas, Manila

Professional Career: joined the United States Air Force, specialized in Aerospace Medicine. After a long and distinguished military service, retired in 1998 as Chief Flight Surgeon with the rank of Colonel.

Married to Anna Pandula, MD, Radiologist. Five children and 8 grandchildren.

Since retirement, he visits Cebu every January/February and spend the summer in Slovakia. They have their "homebase" in Oceanside, California and spend Thanksgiving and Christmas with the family.

As flight surgeon during Medevac from combat zone

Comments:

"...congratulations for the Bisaya Bulletin. My brother Bert is one of your fans. He was the one who gave me your address. Keep up your good work. It is really a joy to link ourselves with one another whereever we are. That way, we support one another. Thank you and God bless your wonderful work. Sr. Merced"

"Thanks for posting Dr. Bert Sanchez's remarkable journey to Santiago de Compostela. It is inspiring to read about physical experiences which offer insight into spiritual mysteries. Padayon  -  Dr. Ed Gamboa"