BisayaBulletin.com

From our little Visayan corner to the global community...

On December 7, 1957, a dashing Atty. Domingo Antigua formalized his love to a beautiful lass by the name of Teresita Ilano.  The son of Mr. and Mrs. Gregorio Antigua of Borbon wed the daughter of Dr. and Mrs. Pablo Ilano of Cebu City against the grand and opulent backdrop of the Cebu Metropolitan Cathedral.  Many, many years of wedded bliss later, the still dapper Doming and ever radiant Tita lovingly rededicated themselves to each other on their Golden Wedding Anniversary surrounded by family and friends, much like they did on that fateful day.

Doming and Tita's 50th Wedding Anniversary was pushed back a bit to allow all immediate family members to be present on this momentous occasion.  And come in full force they did, filling the Pedro Calungsod Shrine at the Archbishop Palace Compound on December 17, 2007 (50 years and 10 days to the date).  In attendance were Domingo "Doni" Antigua, Jr.; Stella Antigua Peyton with husband Greg Peyton and daughter Mackenzie; Dr. Eulie Antigua Molleno with husband Dr. Edgar Molleno and children Daryl, Eunice & Eugene; Polly Antigua; Gregorio Antigua with Cynthia, and children Geanne & Greg; Tisha Antigua Buslon with husband Huberto Buslon, Jr. and  daughters Mirian & Micah; Raul Antigua with wife Jackie and children Dominic, Mitcel, Juneo, Jean Jacques, Mary Angelique & Marquesa; and Therese Gordon with husband John Gordon.

The mass was celebrated by Fr. Hugh Donahue, with the somber but blithesome proceedings punctuated by the goose-bump inducing heavenly voices of the internationally famous and multi awarded
Cebu Chamber Singers
.
Following the renewal of vows, a good number of those who attended the ceremonies at the Archbishop Bishop Palace hied off to the City Sports Club where a sumptuous reception awaited them.  The illustrious choir that provided delightful accompaniment at the wedding continued to provide enthralling tunes at the fete.  Relatives and close friends converged at the venue from Cebu City, Mandaue City, Borbon, Bantayan, Davao City, Metro Manila and as far away as Hong Kong, California, Baltimore and Washington, D.C.  Highlights of the festivities included a toast given by son, Doni to the lovebirds, followed by a surprise dance number by the children and grandchildren.  The couple were then regaled by the choir, which sang their theme songs "Matud Nila" and "Usahay".

It was a fine and eminently satisfying highpoint to the union of Doming and Tita, with the guests bringing home fond memories of the festive affair and of the loving couple who continue to trip the light fantastic even in their twilight years.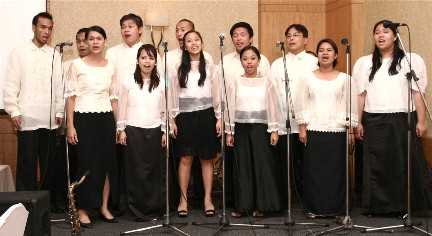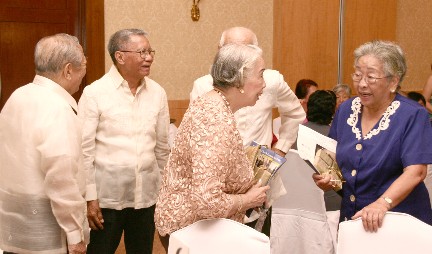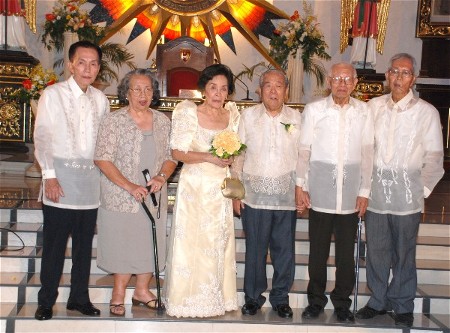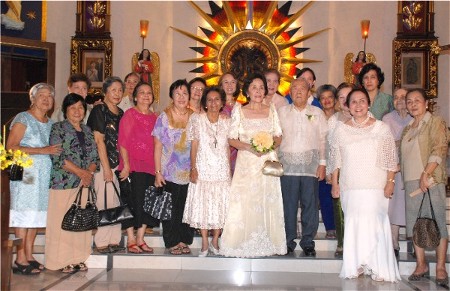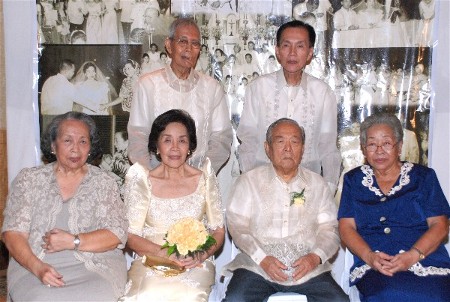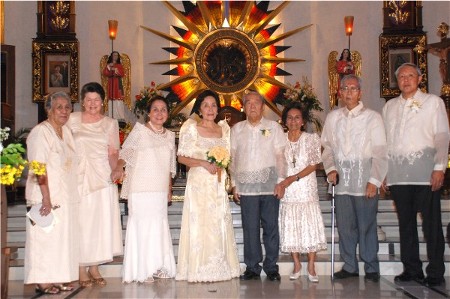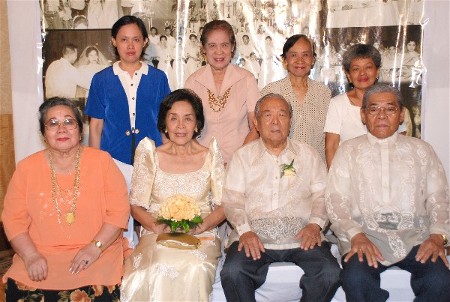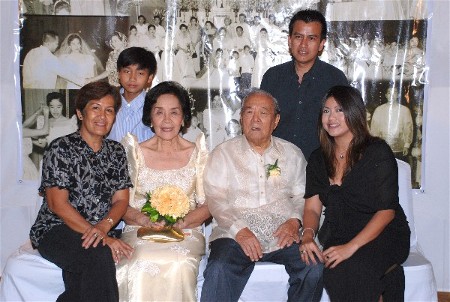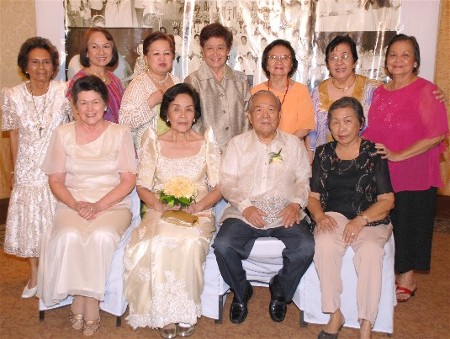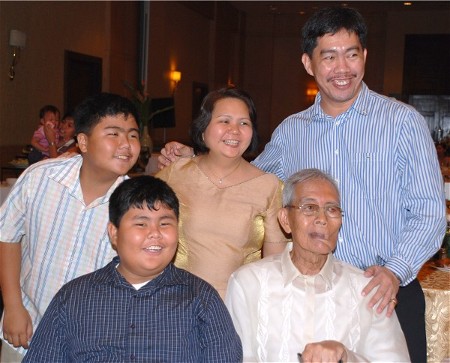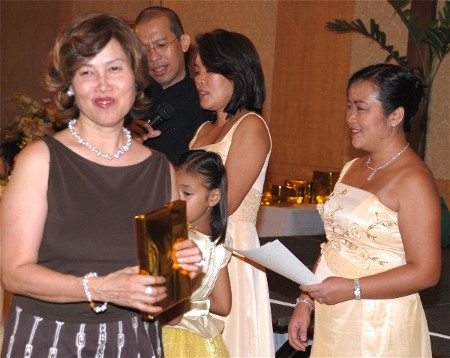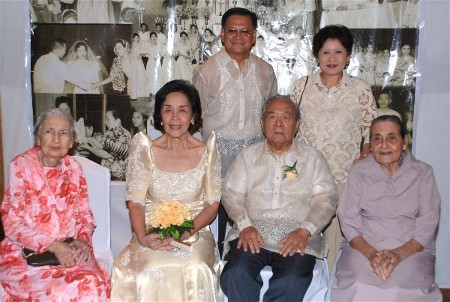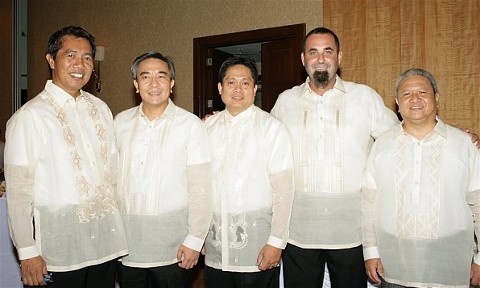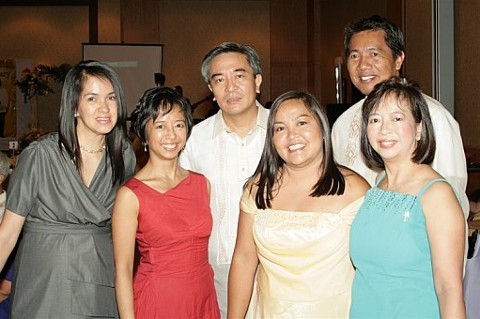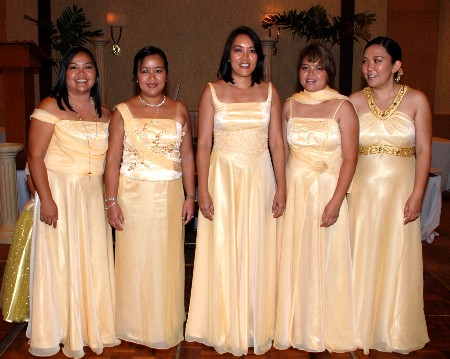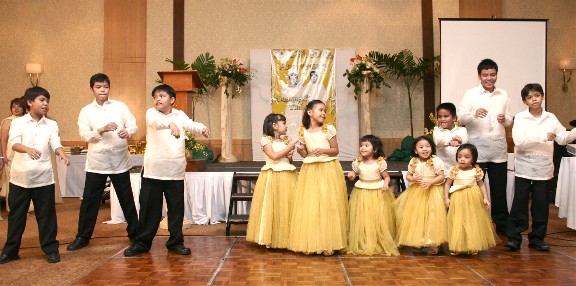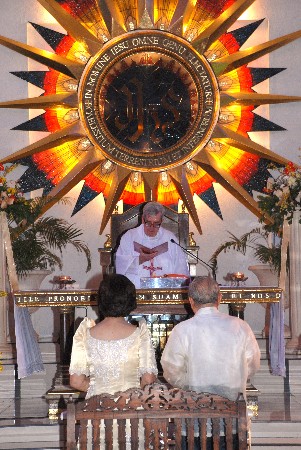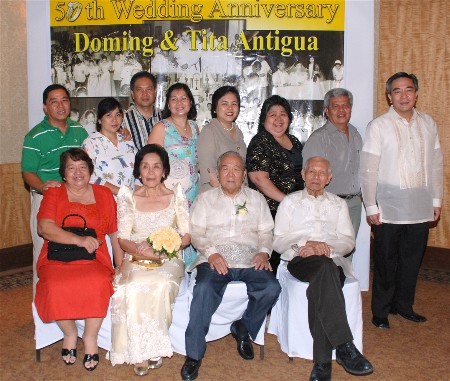 The Cebu Chamber Singers headed by Dr. Manuel Emerson Donaldo belting out the Visayan love songs

Emcee Gavin Bagares with Polly & Eulie calling out winners for door prizes. Bess Nakanishi was one of the happy recipients.

Bantayanons--Antonio & Pi Rosello, Lita Manulat, Floresita & Pedrito Carabio, Bernabe Ilano

Friends from Young Ladies Association of Charity (YLAC) Standing L-R-- Lourdes A. Tan, Betty Palanca, Judith Villegas, Concepcion Asuncion, Milagros Benitez, Norma Pastrana & Filomena Murillo. Seated--Perla G. Michael & Dr. Felicidad Alsay

Standing L-R--Mr. & Mrs. Pris Lumapas, David & Elisa Morales, Olga Antigua & Naty & Arturo Luciano, Doni Antigua. Seated-- Luz Montecillo & Dr. Benito Antigua

Standing L-R- Jane Bago, Josephine Bago, Ofelia Divinagracia, Zenaida Telo. Seated--Remy & Tereso Balankig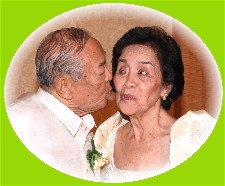 The Resplendent Doming and Tita Antigua Celebrate 50 Years of Wedded Bliss

by Gerry Malixi

March 31, 2008

Some of the original entourage. L-R Ms. Milagros delos Santos, Mrs. Perla G. Michael, Mrs. Rosario R. Alfaro, Mrs. Lourdes A. Tan, Dr. Pablo Ilano, Jr. & Mr. Benny Antigua

Doming & Tita's renewal of vows officiated by Fr. Hugh Donahue

The couple's siblings- Mr. Bernabe Ilano, Dr. Delia I. Reyes, Dr. Benito Antigua & Dr. Pablo Ilano, Jr.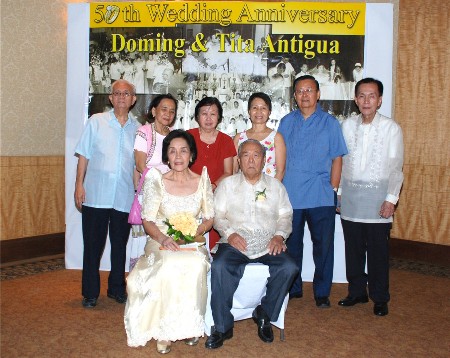 The family of Atty. Domingo and Mrs. Teresita Antigua at the Pedro Calungsod Shrine

Standing--Dr. Winnie & Grace Lumapas

Seated w/ couple--Dr. Mercedes Planas & Ms. Annie Planas

Mr. Benny Antigua, Mrs. Perla G. Michael & Atty. Celestino Sybico

The cousins-L-R--Mrs. Chona R. Tan, Ms. Luisita I. Guanlao, Doni, Stella, Poy & Dr. Nannette G. Pasatiempo

Dr. Pablo "Poy" Ilano, III, Doni Antigua, Dr. Abner Pasatiempo, Greg Peyton & Dr. Edgar Molleno

Five sisters-Stella, Eulie, Polly, Tisha & Therese

With the Ilano siblings--Standing L-R--Dr. Pablo Ilano, Jr. & Mr. Bernabe Ilano-- Seated-- Dr. Delia I Reyes & Dr. Carmen I. Guanlao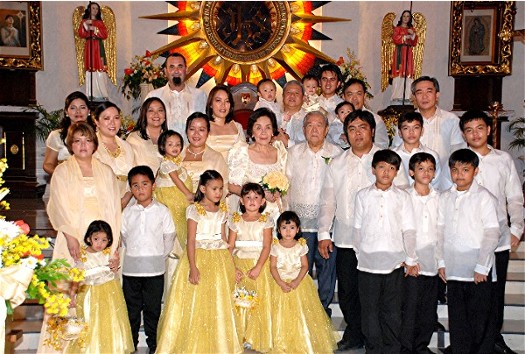 Seated with Mrs. Loreta Antigua, Ema Antigua. Standing--Kazushige and Loloy Antigua

Standing--BJ, Dr. Malou & Dr. Bede Ilano. Seated-- Gino & Dr. Pablo Ilano, Jr.

Posing with friends and contemporaries

A Peek into a Fifty-year old Wedding Album

The Wedding Entourage:

Back row L-R-- Baby Rosales, Cresencio Velez, Valentin Interior, Dr. Suga Yuvienco, Dona Esperanza Osmena, Hon. Sotero Cabahug, Dr. Ramon Arcenas, Pablo V. Ilano, Hever Bascon, Tata Longa & Celestino Sybico

Second row L-R -- Perla Goyaneche, Patricia Reynes, Rosario Rodil, Maxie Antigua, the bride &groom, Josefina Leyson, Vilma Cornejo & Lourdes Sequera

Front row -- Jocelyn Reyes, Danilo Reyes & Benito Antigua, Jr.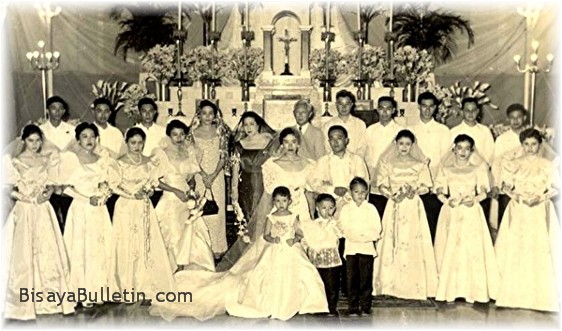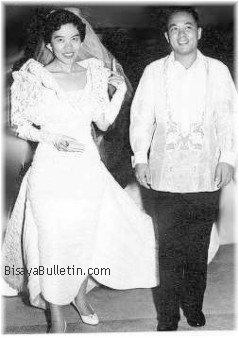 The happy newlyweds (1957)