BisayaBulletin.com

From our little Visayan corner to the global community...

Danao Association USA (DAUSA) Medical Mission

by Dr. Anita C. Jackson October 10, 2007

    The Danao Association USA (DAUSA) is a non-profit civic organization established in 1994 by a small group of Filipino-Americans in the Los Angeles County who originated from or whose roots came from Danao City in the province of Cebu, Philippines.  The idea of doing a Medical Mission was brought up at the 1st meeting of the newly elected officers during the term of Ramon Barriga as president with a US-licensed physician as the PRO, which was materialized in 1998, & became a yearly commitment from then on.  The main objective was to extend voluntary medical services to the deserving fellow-Danawanons in Danao during the town fiesta in September when many people would come back home, popularly known as "Balik-Danao".  Due to the amazing response, spontaneous cooperation & generous contributions from members & friends not only in the States but from other countries in Asia & Europe & in the Philippines, the DAUSA medical mission included not only medical consultations, but also major & minor surgeries, dental procedures, dispensing of free medications, educational mission also known as "Adopt-a-Student" & feeding the adopted children at the Danao General Hospital, also known as "USWAG".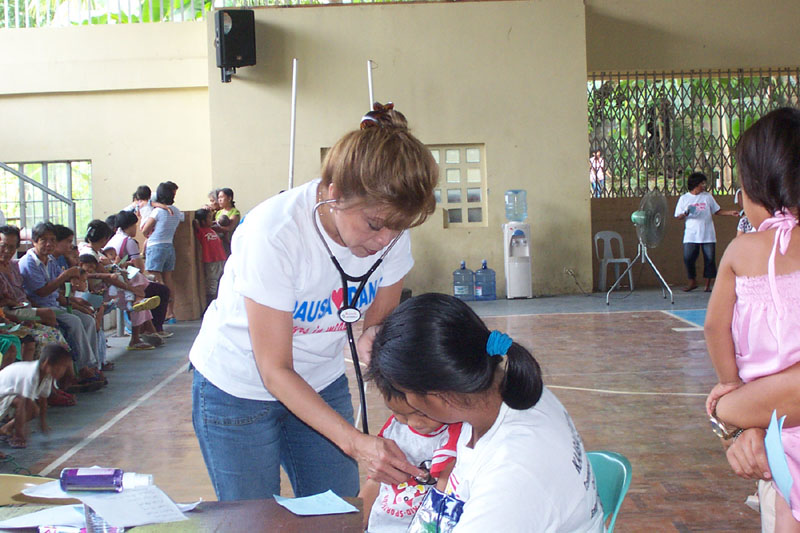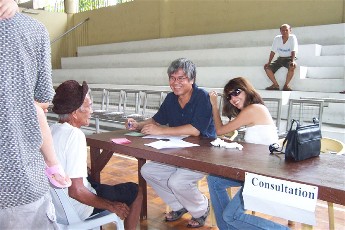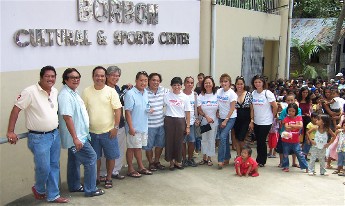 Dr Anita Cal Jackson from Danao Association USA (DAUSA) checking on a toddler's vitals

The success of the mission was made possible by the effective collaboration with the City government, Municipal & Regional Health Offices & Philippine College of Surgeons, Cebu Chapter.  Assistance was obtained from medical outreach programs like the AmeriCares, the MAP International & InterChurch organization, which provided medications & medical supplies for the DAUSA medical mission.  A couple of cases, namely, a little girl born with extensive congenital facial malformation & a "blue baby boy" born with multiple congenital cardiac defects, which could not be done in a Philippine setting, are being sponsored by Mending Kids International (MKI) to be done at the Los Angeles Children Hospital & Cedars Sinai Medical Center, respectively.

DAUSA has recently extended its Medical Mission to the neighboring town of Borbon , Cebu, last September, 2007, sponsored by the Borbonanons of Southern California under the leadership of Phillip Rivera.  Medical consultations were extended by the Borbon municipal health officer & volunteer doctors from Cebu City .  The free clinic & dispensing of donated medications were conducted at the Borbon Sports Plaza.

To know more about DAUSA, it's projects and how you may help, go to
www.dausa.org
.
Patient Registration and BP check station

Dr Monico Perez of Perpetual Succor Hospital volunteering for our mission; with him as his assistant is Arlene Vicente

Volunteers Photo Op with Mayor Butch Sepulveda (2nd from left) and his staff

These links will take you to Ramon Barriga's photo library in flickr.com.