BisayaBulletin.com

From our little Visayan corner to the global community...

ERSTWHILE CITIBANK CEBU COLLEAGUES HOLD END OF SUMMER 2007 REUNION

By  Gerry Malixi

October 9, 2007

Over a 5 day period – from September 21 through September 25, 2007 - former Citibank Cebu contemporaries held a fun-filled get-together in Cypress, CA.  Drawn by the clarion calls of amity and friendship, they came from as near as La Palma, CA; San Diego down South; Santa Rosa, CA and Seattle, WA up North; Indiana in the Mid-West; Florida in the Southeast and as far away East as Guam.

Those in attendance included Carmelita Villarosa, Emila Aguilar, Zeny Estacion and her husband Jerry, Esther Quioco, Faelit Pansoy and her husband Rey, Dinah Varga Dorotheo, Ben Gue and his wife Beth, Joan Tapia-Beeman, Gerri Lim Hidalgo with her son Teddy and good friend Eva, Ralph and Jean Gotauco with their son Richie, Anilour OngVano, Dorothy Villacin and Gerry Malixi.

As many of the attendees had not seen each other in more than 20 years, much time was spent exchanging updates, poring over vintage photos and reminiscing about wonderful times in Citibank well into the night.  There was lots of laughter and "agik-iks". 

Everyone had their fill of food!  To name a few of the appetizing delights - there was baked chicken, home-made ensaymada, callos, crispy dilis, nilungag na mani, hopia from the Philippines, 2 types of corn on the cob (from WA and IN), home-made bread, at least 4 types of budbud, fresh fruit, sinigang, siopao, pancit, crispy pata and even gozo!  And that was only the food to be had at home.  Sunday lunch was at Prince Seafood restaurant for delectable dim sum (thanks Dinah!) and then to Goldilocks for halo-halo (thanks Melanie!). 

When not eating or engaging in collective nostalgia, the group went walking on the beach at Corona del Mar, attended mass at San Juan Capistrano and went driving in Beverly Hills, Malibu, Palos Verdes, Redondo Beach, San Pedro and Long Beach. 

After the whirlwind of activity wound down, everyone headed home, sleep deprived but filled with fond and new memories.

Special thanks to Carmelita (our tireless organizer and tour guide) and Melanie Feliciano for hosting the group in their lovely home, to Joan for her extraordinary kitchen talents, and to everyone who brought food and convivial jocularity to this special gathering.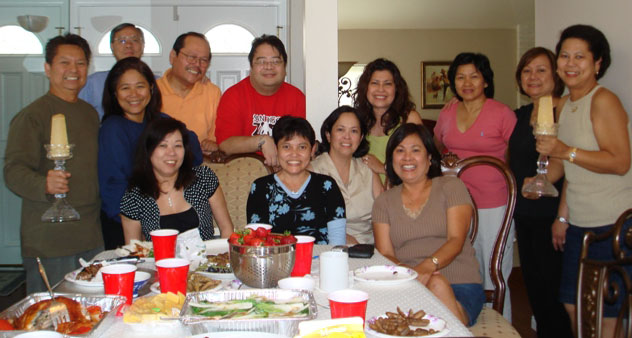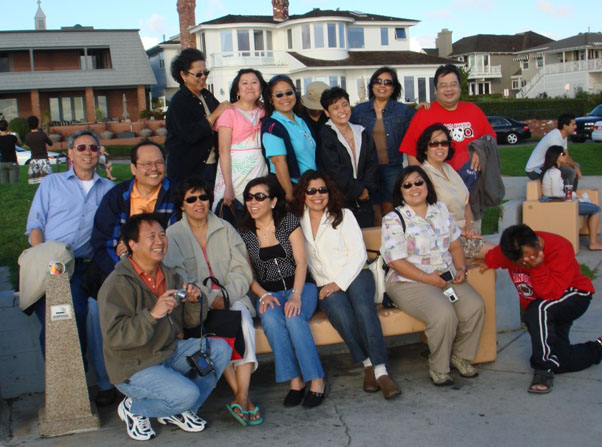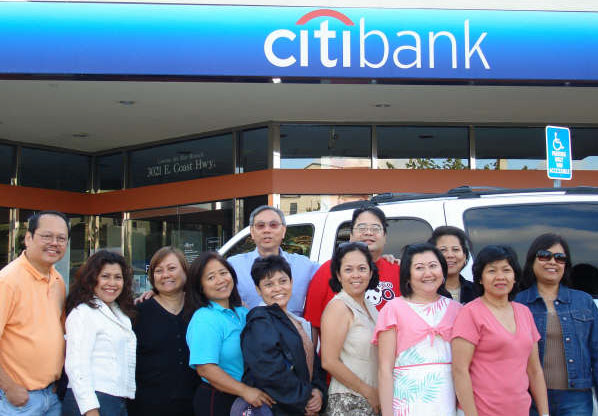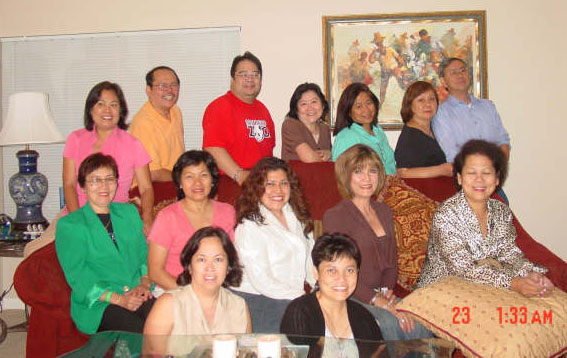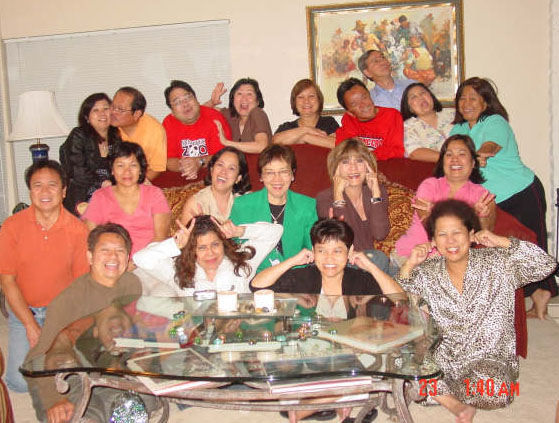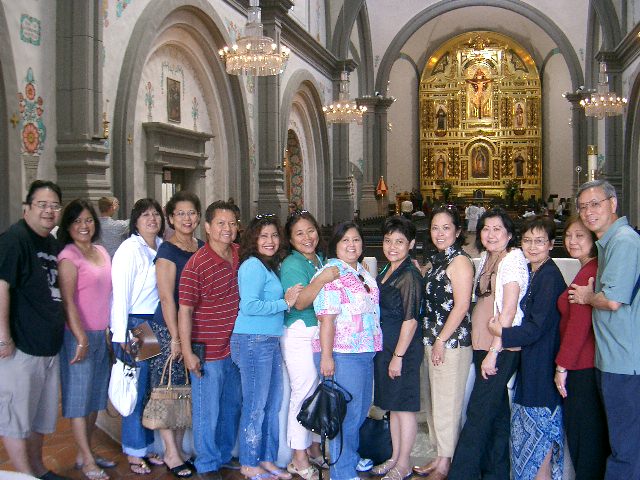 Citibank Board of Directors. Front Row (l-r):  Ben Gue, Faelit Pansoy, Jean Gotauco, Carmelita Villarosa, Joan Tapia-Beeman, Dinah Varga Dorotheo, Gerri Lim Hidalgo & Zeny Estacion. Back Row (l-r):  Ralph Gotauco, Gerry Malixi, Esther Quioco & Emila Aguilar

Glamour Shot

Front Row (l-r):  Dinah & Joan

2nd Row (l-r):  Anilour OngVano, Zeny, Faelit, Dorothy Villacin & Esther

Back Row (l-r):  Emila, Ben, Gerry, Gerri, Carmelita, Jean & Ralph

At San Juan Capistrano

(L-R):  Gerry, Emila, Eva Tuano Cruz (Gerri's close friend), Esther, Rey Pansoy (Faelit's husband), Faelit, Carmelita, Melanie Feliciano (Carmelita's housemate), Joan, Dinah, Gerri,

Anilour, Jean & Ralph

Cracking Up

Front Row (l-r):  Rey, Faelit, Joan & Esther

2nd Row (l-r):  Jerry Estacion (Zeny's husband), Zeny, Dinah, Anilour, Dorothy & Emila

Back Row (l-r):  Beth (Ben's wife), Ben, Gerry, Gerri, Jean, Richie (Jean & Ralph's son), Ralph, Melanie & Carmelita

See Food Diet

Seated (l-r):  Beth, Joan, Dinah & Emila

Standing (l-r):  Rey, Carmelita, Ralph (behind Carmelita), Ben, Gerry, Faelit, Zeny, Jean & Esther

At Corona Del Mar

Front Row (l-r):  Rey, Zeny, Beth, Faelit, Melanie & Richie

2nd Row (l-r):  Ralph, Ben & Dinah

Back Row (l-r):  Esther, Gerri, Carmelita, Joan, Emila & Gerry