BisayaBulletin.com

From our little Visayan corner to the global community...

Terry and Remy's 50th Wedding Anniversary Celebration

Written by Jackie Balankig

October 2, 2008

My parents celebrated their 50th wedding anniversary last 24 March 2008 at the Alliance of Two Hearts Parish, Banawa Cebu with Monsignor Esteban Binghay, Fr. Aris Cipat, and Fr. Ray Lipat officiating the mass. The angelic voices of Kammerchor Manila (choir) added solemnity to the atmosphere…It was grand with the church beautifully decorated. Watching my parents walk down the aisle made me teary-eyed. It was so nice seeing them happy. They have reached the 50th year and yet the spark is still there. One would ask how could they reach this long when couples these days break up easily...Oh the secret? Ask my mom. But i see my mom a very patient and submissive wife yet she is still in control of everything. We see how our mom takes care of our dad. My dad can be complicated sometimes but very loving. Up to this day, my dad still says, I love you to my mom many times. And my mom, the shy type, would just smile. They like to hold each others hands. We are so lucky to have parents like them. For their special day, us siblings organized a grand celebration (without their knowledge how the event would turn out to be). It was so quiet that they thought nothing was going to happen. They were both in awe how the church was decorated and much more…the reception which was held at the Grand Convention Center. It was well attended by close family friends and relatives. The guests were entertained with a showcase of talents by the grandchildren. These kids are super talented and very close with each other. Even my little Kenji presented a lip-synch number with the audience participation while i courageously sang a beautiful song with the Kammerchor Manila. My parents were in tears and were overjoyed with how their special day turned out. This is a once in a lifetime event....and they deserve the best ...only the BEST.

Photos provided by Jackie Balankig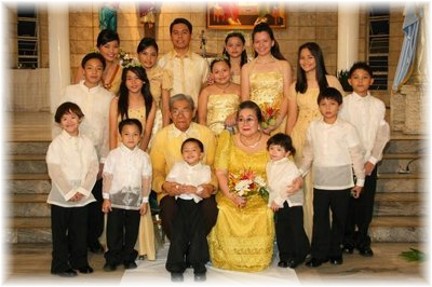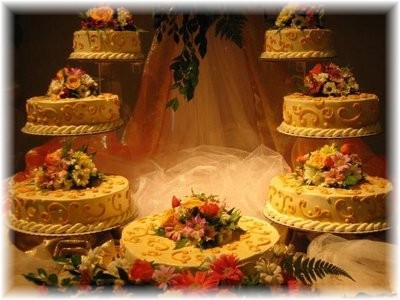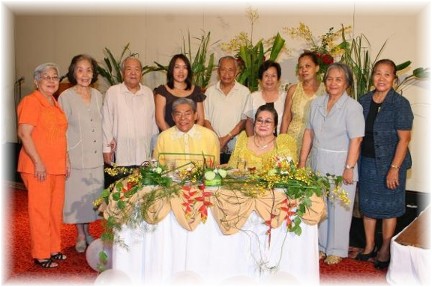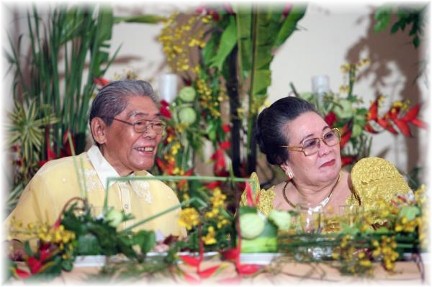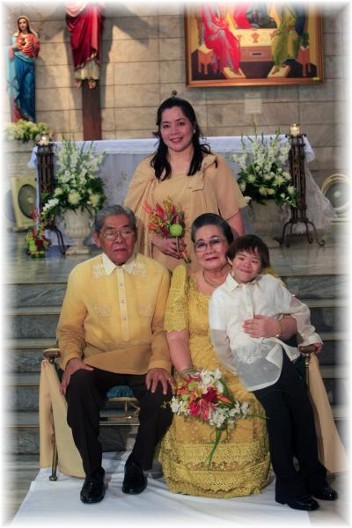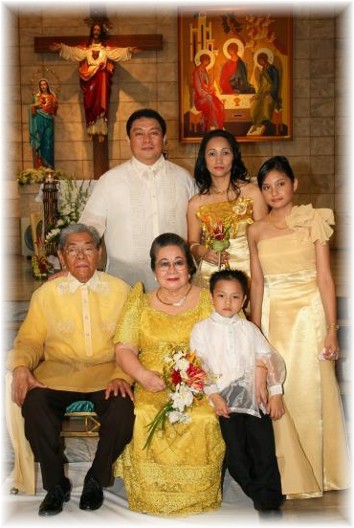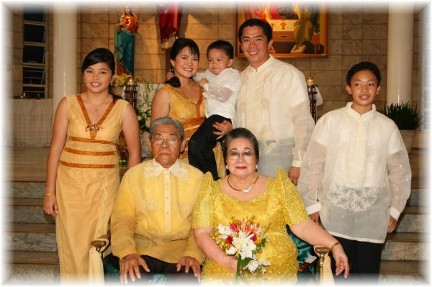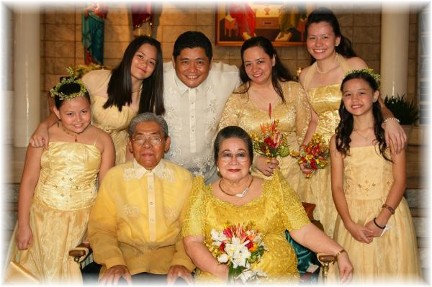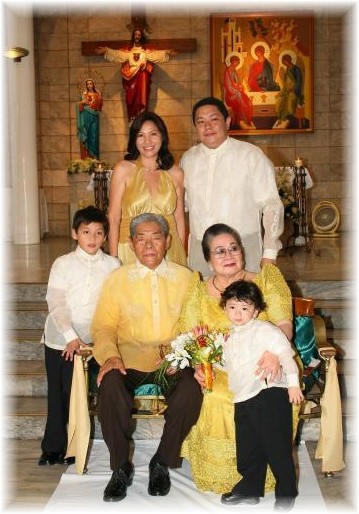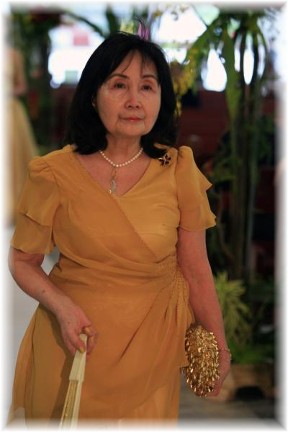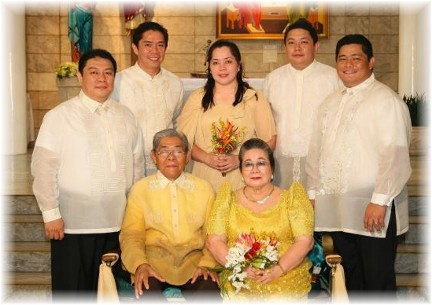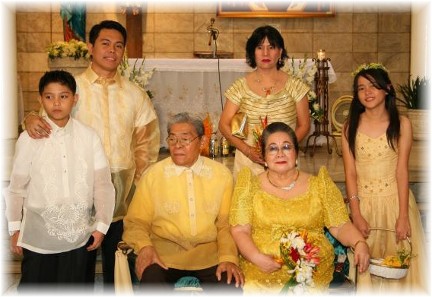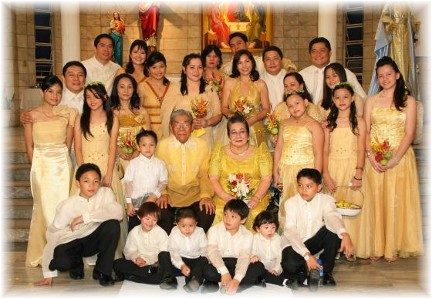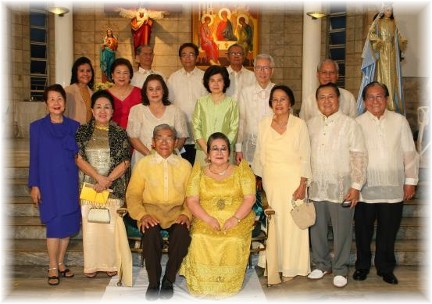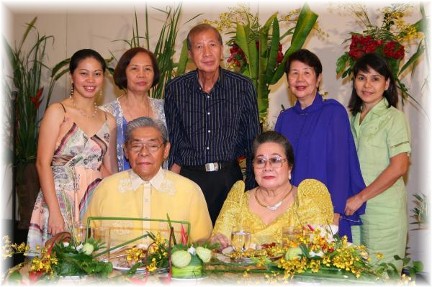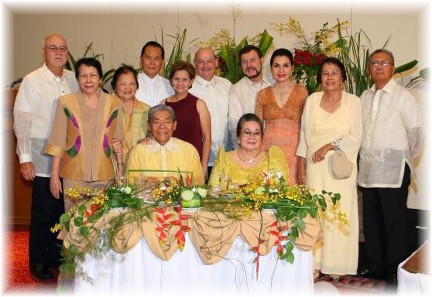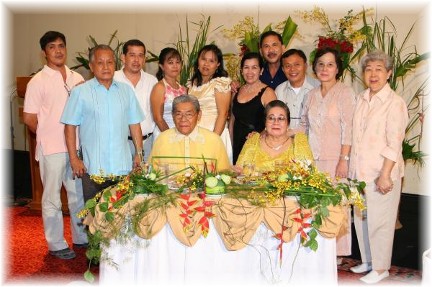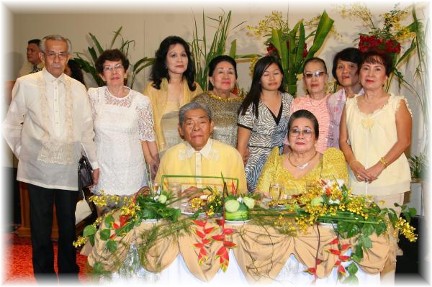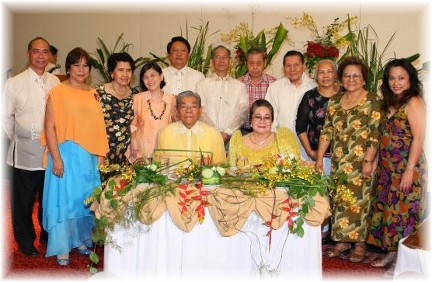 Terry and Remy Balankig smile while their children and grandchildren perform a number

With all the grandchildren

Balankig siblings- Tereso, Jr, Mike, Jackie, Dodong and Earl. Not in photo is Andy and Angelo+

Terry & Remy Balankig with the family

+Angelo's family - Kevin, Kent, Laila (wife), and Kimberly

With Jackie and son Kenji

Lilia Songalia-Bacaltos (original bridesmaid)

Tereso Jr.'s family - Jun, Merce Castillo (wife), Keiko, and Miguel Angelo

Mike's family - Ghia, Grace Carbilledo (wife), Jai-jai, Mike & Renzo

Earl's family - Patricia, Paula Remy, Earl, Mae Wilkins (wife), Monique, and Erika Justin

Vilma Lee, Tita, Doming & Polly Antigua, Monching Ilano

The Principal Sponsors (first row) Loreta Calderon, Isabel Songalia Dejoras, Atty. Merle Cunanan, Consul Leontina Benedicto, Lita Aldana, Atty. Silvino Maceren, Congressman Pablo Garcia (2nd row): Patricia Maceren, Mrs. Burden, Engr. Boy Toledo (3rd row) Engr. Rene Kintanar, Mr. Jose Cunanan, Jr., Ambassador Frank Benedicto, Dr. Ben Aldana

Dodong Terry's family  - Joshua, Tina Calderon (wife), Dodong, and Jacob Matt

Chinggay Calderon-Reyes, Lionel and Aurora Calderon ,Loreta Calderon, Jojin Patalinghug

Joseph Songalia, Heri Ugay, Vic and Elsa Canseco, Filomena Uy

Consul Cheling Sala, Bebe Alcoseba, Dolores & Joe Gapas, Honey & Glenn Loop, Ambassador Michel & Amparito Lhuiller, Lita & Ben Aldana

Mr. and Mrs. de Vera, Lita Ortiz, Engr. Rene Kintanar, Atty. Mario Ortiz, Judge Esperanza Garcia, and Isabel Garcia

Isaac and Shirley Songalia, Myrna Dejoras-Manalastas, Isabel Dejoras, Cha and Lydia Walwal, Diana and Elizabeth Balankig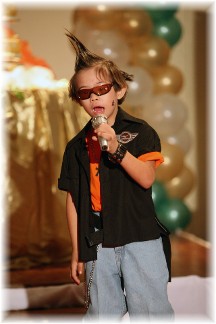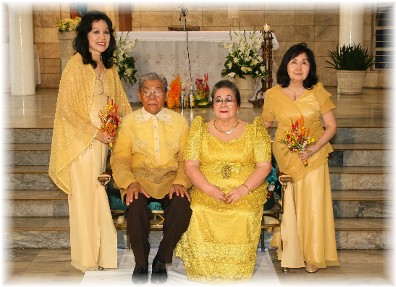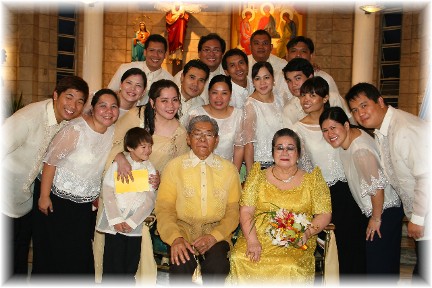 With Kammerchor Manila - resident choir serving at the Hearts of Jesus and Mary Parish in West Triangle, Quezon City -

with Myrna Dejoras-Manalastas (original flower girl) and Lilia Songalia-Bacaltos (original bridesmaid)

Jackie's son Kenji lip synching